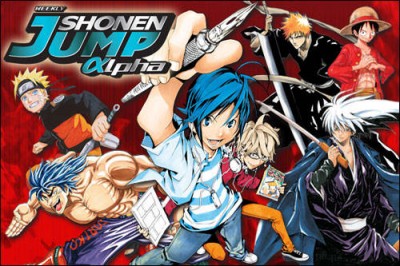 Looks like Viz is finally understanding that their digital magazine Shonen Jump Alpha was in an awkward place when it came to their content. With a two-week delay between the latest manga chapters that run in Japan's Weekly Shonen Jump, their translations were not current enough to morally deter those who read free scanlations, yet too current to be collected into a full volume. As a result, I'm sure many fans of manga such as Naruto, Bleach, One Piece, and many more simply glanced at Viz's offerings, asked themselves why they'd pay for a two-week old official version, and continued reading scanlations that appear a few days after a new issue was released. It looks like Viz got the memo, because now readers can get the content instantly.
In a move that Viz says was always under consideration since the magazine killed its print version in favor of a more timely, cheaper digital version, issues of Shonen Jump Alpha will now release simultaneously with issues of Weekly Shonen Jump. The new version of the magazine will begin running on January 21, 2013, though there is no word on what manga will be running in it. I'd assume most of the current manga would still be around, especially Naruto, Bleach, and One Piece, since that's their bread and butter.
Maybe this is the first step towards Viz just outright licensing everything published in Weekly Shonen Jump? I'm trying to be optimistic, but I'm one of the few people lamenting the death of physical media. Rest in peace, original US Shonen Jump and your 300-page monthly issues.
Source: Crunchyroll