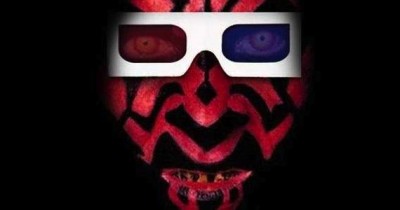 Were you one of the few people excited about the entirety of the Star Wars series — well, as of now — being converted into 3D and returned to theaters? Then prepare to be disappointed, as Lucasfilm has officially dropped plans to continue with the remaining five films. Apparently, the 3D version of The Phantom Menace last year did poorly, only pulling in $23 million domestically. In addition, all the hardcore fans it was being marketed to treated it like a blatant cash grab. Attack of the Clones would have followed this September, with Revenge of the Sith in October.
Of course, it's obvious why this decision is being made, besides the fact that no one really wants to ever watch The Phantom Menace again. Under Disney's leadership, Lucasfilm is choosing to focus on production of the sequel trilogy, especially now that J.J. Abrams is confirmed to direct Episode VII. One can only hope that this is the first step in Disney completely disavowing anything related to the prequel trilogy.
And even though it means that the original trilogy won't be returning to big screens, I'm not torn up about it. Converting 2D films to 3D in post has never looked good, and I wouldn't expect it to start now with films over 30 years old.
Source: Deadline