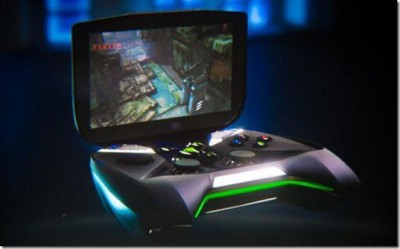 CES is running right now, and Nvidia just revealed a new handheld device they're calling Project Shield, at least for now. With a 5 inch touchscreen, the device runs Android on Nvidia's newly announced Tegra 4 mobile chip and features an actual controller in the clamshell about the size of an Xbox 360 controller.
Besides having that beefy chip inside of it, Project Shield has MicroSD and Micro USB slots, plus an HDMI port for outputting up to 4K resolution. That 5 inch touchscreen also displays 720p at 294 dpi, comparable to a "retinal display." In addition to its own games, it can stream games from your PC, including Steam's Big Picture mode.
In addition to that, Nvidia has constructed a supercomputer server made of 240 GPUs (about the strength of 700 Xbox 360s) into one tower called the Grid. Each Grid will be used for streaming games to smart TVs, with game syncing that allows you to pick up where you left off on another system, such as on a Transformer Prime tablet with the appropriate app. Nvidia will license the Grid software to companies, allowing them to stream their games using the Grid.
Of these two announcements, the game streaming tech sounds a little more solid. The concept is still in its infancy, and companies like OnLive have already had their own problems, but I think that it will eventually take off and improve along the way. What I'm not sold on is Project Shield. It looks like a very impressive handheld, but I'm not sure where it will fit into the marketplace. With innards that strong, I'm sure the unannounced price point will be higher than many mobile users would pay. Those that would be willing to pay for a dedicated gaming handheld would likely be more attracted to the Nintendo 3DS, or even the PlayStation Vita. They may have also have been sold on the Ouya, another upcoming Android-powered device that, while weaker than Project Shield, already has developer support.
It'll be interesting to see what it's like once it's on the market, because I can't help but feel a vibe of potential failure similar to the Nokia Ngage.