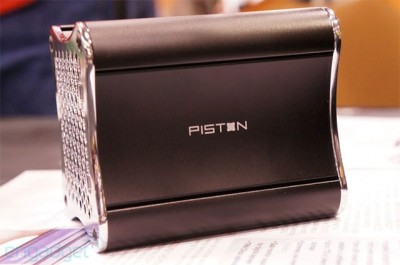 The rumors were true! At CES, Valve confirmed they are making their own videogame console — well, sort of. The as-of-yet unnamed "Steam Box" (codenamed "Piston") will run their already-existing Steam game delivery system, which is by far the market leader when it comes to PC gaming due to solid service, simple DRM, and ridiculously cheap sales and vast bundle deals. Valve has recently introduced "Big Picture" mode, a menu system designed to be viewed on HDTVs instead of PC monitors, so it made sense that Valve was eyeing the couch gaming market.
Valve's Steam Box will run Linux OS (with the option to install Windows 8), but just like the OS, the system won't be a locked-down PC console. It will be open enough to function as a server, with one PC possibly servicing eight TVs with eight controllers. Other partners will also be able to build their own Steam Boxes to their own specifications, with Valve CEO Gabe Newell hypothesizing a three-tiered grading system: Good, Better, and Best. Ideally, Good Steam Boxes would be free, but will likely start at $99 before eventually dropping their price. Better machines would cost $300, while partners could charge whatever they wanted for high-end, super-powered Best consoles.
In the case of "Piston," the prototype is co-made by Xi3, based on their X7A offering which costs $999. It has 1TB of storage, with modular components that allow you to upgrade the CPU and RAM. The demo unit has an ethernet port, 1/8″ audio port, SPDIF optical audio, four USB 3.0 ports, four USB 2.0 ports (one specifically for keyboard input), four eSATAp ports, two Mini DisplayPorts, and one DisplayPort/HDMI port. Xi3 also offers an X5A for only $499.
The Steam Box is also likely to use alternative controls in the form of biometric feedback. Newell would like controllers to detect this data and feed it into games to subtly change the way they play without the player even noticing. I can imagine a Left 4 Dead sequel in which the Director AI that controls the enemy zombies not only changed the scenario based on how you played, but also on how you felt. It also fits with Valve's method of making games that relies heavily on focus-testing levels to perfection; more data could only be a good thing for this method.
As someone who grew up with videogame consoles, I'm not one to play PC games outside of the occasional title, but I've always respected Valve from afar. They have the capital to create whatever they want (and take their time with it — see the still missing Half-Life 2: Episode Three), which means they genuinely care about their creations. I can't guarantee that I would buy a Steam Box, but I'm much more interested than I usually am about PC gaming, and I know there are probably a lot of console players out there who share my opinion.