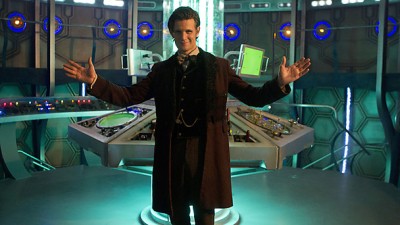 I would have thought that Doctor Who mania would be in full swing, since 2013 is such a major milestone in Doctor Who history. It's been 50 years since the broadcast of the first episode, "An Unearthly Child," but other than a 60-minute anniversary special, there are only a few minor things being done. And what's the deal with one 60-minute special? There should be some two-hour extravaganza, with as many Doctors returning as possible, a la the 25th anniversary's The Five Doctors. (Plus, the season leading up to it featured the return of previous villains.) Ah well, at least the special will…be in theaters…and in 3D?
Yes, the BBC has announced that the 50th anniversary special will be using some of their HD services to broadcast Doctor Who in 3D (as well as 2D, of course). Those who want to see it but don't have 3D TVs — and honestly, almost no one has 3D TVs — will also be able to catch it in theaters, though I question how much they'd charge for a mere 60 minutes of story.
It's cute to hear showrunner Steven Moffat say, "It's about time. Technology has finally caught up with Doctor Who and your television is now bigger on the inside. A whole new dimension of adventure for the Doctor to explore." But still, it's not clear whether the special is actually being shot in 3D or if it will suffer the dreaded 2D-to-3D conversion that looks horrible. Plus, I don't really see a need to watch Doctor Who in 3D. But oh well, there's currently no word on whether this will be available to us Yanks, so it may be a moot point. It's just good to know they're putting resources where they matter instead of making a bigger special…oh wait.
Source: Life, Doctor Who, & Combom