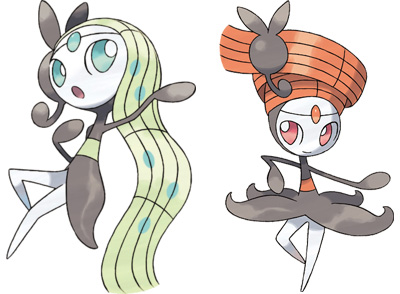 No matter how accomplished a Pokemon collector you are, it is currently technically impossible to have caught all 649 Pokemon. (At least, officially — let's ignore the hackers.) That's because Nintendo has yet to make available the last event pokemon, Meloetta. Sure, the game doesn't require it to complete your Pokedex, but if you're going to bother to catch 'em all, you might as well go all the way. But now, Nintendo is finally giving out the rare Meloetta.
You can get the Normal/Pyschic type — that also transforms into a Normal/Fighting type via a special move — by visiting Gamestop on March 4-24, or EB Games on March 9 in Canada. Yeah, it's pretty stupid that you have to actually go somewhere when the DS is perfectly capable of getting the pokemon via the internet, like with Genesect, the previous event pokemon. But unlike Genesect, you can not only download Meloetta to a copy of Pokemon Black 2 and White 2, but also Pokemon Black and White.
I'm still missing some pokemon from Generation IV, so I'm only clocking in a little under 600 — yeah, "only" about 600 — but I'll definitely add Meloetta to my collection. I'm aiming to finish my National Pokedex this year, before Pokemon X and Y come out this fall and put me even further behind!
Source: Destructoid