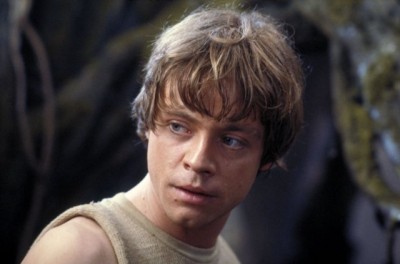 Surely you've heard all the rumors lately about which classic Star Wars actors are or aren't returning to Disney's new trilogy (or spin-off films). Well, don't get your hopes up, because Mark Hamill is ready to be a complete buzzkill about them.
Says Hamill to Entertainment Tonight: "They're talking to us. George [Lucas] wanted to know whether we'd be interested. He did say that if we didn't want to do it, they wouldn't cast another actor in our parts — they would write us out. … I can tell you right away that we haven't signed any contracts. We're in the stage where they want us to go in and meet with Michael Arndt, who is the writer, and Kathleen Kennedy, who is going to run Lucasfilm. Both have had meetings set that were postponed — on their end, not mine. They're more busy than I am."
So don't get too excited, nothing's for certain. And it seems like if Lucas has his way — and it's unsure how much control he still has — there won't be younger casting a la J.J. Abrams's Star Trek. Hamill goes on to speculate that if Luke was in the new films, he would be a sort of Obi-Wan-esque mentor. He's also interested to see what is done with the spin-off films, wondering what a movie set on a Wookie planet would be like. (Spoilers: see The Star Wars Holiday Special for why that's a bad idea.)
And when asked to give advice for the new movies? He wants them to keep it "retro." "I hope they find the right balance of CGI with practical effects," he says. "I love props, I love models, minatures, matte paintings — I'm sort of old school. I think if you go too far in the direction of CGI it winds up looking like just a giant videogame, and that's unfortunate." Well said, Hamill. Let's hope the producers agree and we don't get the charmless visual overload of the prequels.
Source: Entertainment Tonight