Posted by Bob Muir on Feb 27, 2013 in
Videogames
|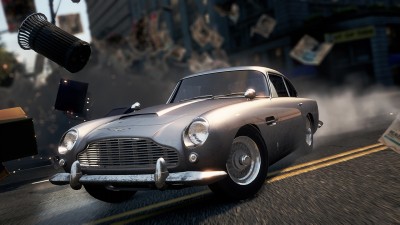 Criterion put out another solid open-world racer with the recent Need for Speed: Most Wanted. In the spirit of evoking its similar predecessor Burnout Paradise, Criterion has been prepping lots of new content. Besides a free title update that tweaks things like the nighttime appearance, there are three DLC packs on the way that fans of older elements are sure to enjoy.
The Terminal Velocity pack is like Burnout Paradise's Big Surf Island expansion. This pack adds the Hughes International Airport, the biggest area in the game. It also adds two mods, Drift Tires and Jump Nitrous. Of course, it also includes five new cars.
The Need for Speed Movie Legends pack adds five new cars from famous movie chases. The quick list: the Aston Martin DB5 (various James Bond films), the 1967 Shelby GT500 (Gone in 60 Seconds), the 1970 Dodge Charger R/T (The Fast and the Furious franchise), the 1977 Pontiac Firebird Trans Am Special Edition (Smokey and the Bandit), and the 2008 Aston Martin DBS (Quantum of Solace).
Finally, the Need for Speed Heroes pack adds another five new cars, this time culled from the covers of previous Need for Speed games. You get the Lamborghini Diablo SV (Need for Speed 3: Hot Pursuit), the Nissan Skyline GT-R (R34) (Need for Speed: Underground), the Nissan 350Z (Need for Speed: Underground 2), the BMW M3 GTR (Need for Speed: Most Wanted (2005)), and the Prosche 911 GT2 (Need for Speed: Undercover).
The Terminal Velocity pack goes for $14.99/1200 points, while the Movie Legends and Heroes packs go for $9.99/800 points each. Or, you can buy all three in a deluxe DLC bundle for only $24.99/2000 points, which is more than 28% cheaper.
Source: Polygon