Posted by Bob Muir on Feb 26, 2013 in
Videogames
|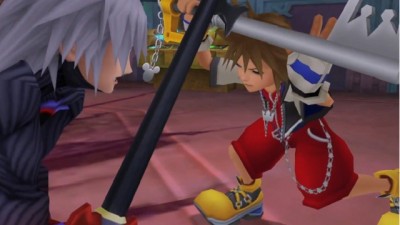 Consider me somewhat unduly excited, but I can't help it: Square Enix has finally announced a Western release for Kingdom Hearts HD 1.5 ReMIX. It's an HD collection consisting of Kingdom Hearts Final Mix (the slightly improved original game, previously only released in Japan), Kingdom Hearts Re:Chain of Memories (the PS2 remake of the GBA interquel), and redone, expanded cutscenes that tell the story of Kingdom Hearts 358/2 Days (a DS spin-off set around the same time as Re:Chain of Memories). Naturally, trophies have been added as well.
This will be the first time that Europeans can play Re:Chain of Memories and the first time any non-Japanese countries received Final Mix. Some may bemoan the fact that 358/2 Days is only present in cutscene form, but having achieved 100% completion in the DS version, I can honestly say that you're better off not playing it if you missed it.
The collection will be a PS3 exclusive when it launches sometime this fall. Now let's hope that with the PS4 on the horizon, Square Enix doesn't move on from the PS3 before putting Kingdom Hearts 2 Final Mix+ and Kingdom Hearts Birth by Sleep in another collection!
Source: Square Enix