Posted by Bob Muir on Mar 20, 2013 in
Videogames
|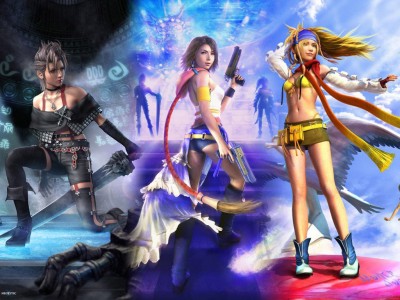 You can't fault gamers for expecting Final Fantasy X HD to be out by now. First announced at TGS 2011, the HD update to the PS2's first Final Fantasy game seemed like something that wouldn't take too long to push out. We didn't know if it would be an extensive retexturing with numerous fine-tuning like with the Ico & Shadow of the Colossus Collection or a cheap-and-dirty rerelease a la Capcom's HD reissues, but either way, it should have been out in 2012. However, all we've seen so far is a few HD models, with the promise of a 2013 release.
Well, it turns out part of the delay may be the previously-unannounced inclusion of one of the rare direct sequels in the Final Fantasy series, Final Fantasy X-2. According to the latest issue of Japan's Weekly Shonen Jump, the Charlie's Angels-esque follow-up will be on the same Blu-ray disc as its predecessor when released for the PS3 later this year. If you were planning on picking it up on PlayStation Vita, the two games will be separate.
In addition, both games will include the additional content found their Japanese rereleases, known as Final Fantasy X International and Final Fantasy X-2 International + Last Mission. Despite the "International" in their names, only FFX International received an English version, being released in PAL territories under the original name since it came out much later than the US version. There's no word on whether the release includes Eternal Calm, Final Fantasy X-2: Prologue, a 14-minute video clip that bridges the gap between the two games. It was only included with the Japanese version of FFX International, but was later released in the US and PAL territories with English voices as a bonus for the collector's edition of Unlimited SaGa.
This certainly makes sense, because while FFX-2 has its detractors, it apparently wraps up the story of FFX much better than the original game did. This gives the impression of a more complete package, especially if the collection ends up including the Eternal Calm video. Still, even with the addition of another game, you have to wonder why this has taken so long. Square Enix once again proves that it has no idea how to make timely releases on HD consoles. It's almost laughable that this still doesn't have an English release date (much less a Japanese release date) when Kingdom Hearts HD 1.5 ReMIX was both announced after and released earlier, having just come out in Japan last week.
Source: IGN