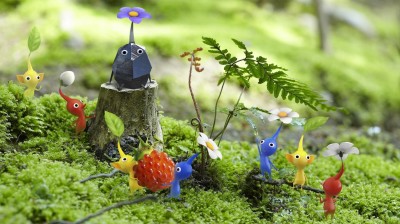 It has been a dry post-launch period for Wii U owners, with not a whole lot coming out. In hindsight, it's almost good that Pikmin 3 got delayed until early this year, since at least there will be a must-buy game coming out for those desperate for new games. But before then, Nintendo has a small side-project to share: short Pikmin cartoons.

Stressing that he's not quitting game development (at least until he retires), Shigeru Miyamoto revealed that he had been working on short videos with the structure of Japanese four-panel comics alongside an external animation studio. The shorts came out of a test video that was created for Japanese theaters, with the Pikmin telling the audience to put on their 3D glasses. It sounds like a cute promotion, and since they were received well enough, they decided to do more to promote the game further.
The videos will be released sometime this year before Pikmin 3 is released, but there's a catch: you'll need a 3DS to watch them. The 3DS has previously hosted free video content on the Nintendo eShop, so Nintendo already has a content distribution system in place there, not to mention the much larger 3DS install base that needs to be sold on getting a Wii U. And it's cool that the videos would wind up on the 3DS, considering that the storyboards were done with the 3DS app Flipnote Studio. Still, it's a shame that Wii U owners who are hungry for just about anything to do on their systems don't even get these videos.
The post-launch window on any console is always iffy, but especially on Nintendo consoles. I'd hope Nintendo fans would commiserate with PlayStation fans, since the Vita still hasn't taken off well outside of its launch window!
Source: Polygon