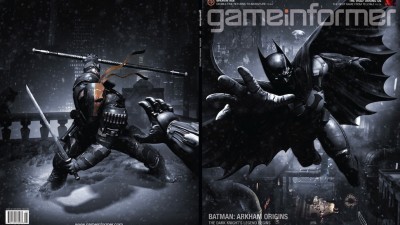 Speaking of Batman, Game Informer has just announced that Warner Bros. Montreal are making Batman: Arkham Origins, a prequel to Rocksteady's Arkham Asylum and Arkham City. The game will be released on Xbox 360, PS3, Wii U, and PC this fall. It will be set years before the first two Arkham games and include the villain Deathstroke. What's a little concerning is that someone other than Rocksteady are making the game, considering how proven Rocksteady is, but I'm still optimistic.
In addition, Armatage Studios are making Batman: Arkham Origins Blackgate for 3DS and Vita, a 2D Metroidvania-style adventure. While handheld spin-offs are always unpredictable when it comes to quality, Armatage is made up of ex-developers from Retro Studios, known for the 3D Metroidvania Metroid Prime, which is an excellent game. Based on that pedigree, I feel almost more excited about the potential for this game than the console version.
Still, I'm really excited to see more of both games, and Game Informer has promised more information throughout the month.
Source: Kotaku