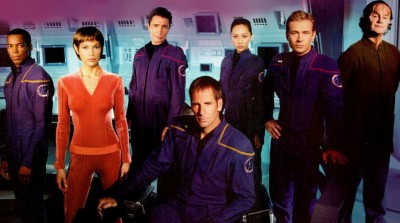 The latest battle for viewership is being fought on subscription services like Netflix and Hulu Plus. Original shows like House of Cards are proving to be draws, and Netflix's exclusive season four of Arrested Development could be a major win for the service. In light of this and the renewed popularity of Star Trek thanks to J.J. Abrams' rebooted films, has led some fans to try and resurrect Star Trek TV series on Netflix. The only thing is that the prime candidate is Star Trek: Enterprise, of all things.
Apparently this stems from Enterprise Executive Producer Brannon Braga musing that it would be possible to bring back Enterprise for a fifth season or even a movie on Netflix, with enough support from fans. Calling to mind the campaign to save the original series (and Enterprise, for that matter), fans have started a campaign to bring back Enterprise on Netflix. It's not unprecedented, as every Star Trek TV series is already on Netflix, and Netflix has shown it is willing to resurrect series with Arrested Development. While more Star Trek TV would be nice, I feel like a brand-new TV show would be a better bet than a series that is often considered mediocre, even if it improved in later seasons. A new TV show could still be on Netflix, but could take advantage of the new audience brought in by Abrams' films.
You can follow their Facebook page here, and I do wish them the best. I just think they have an uphill battle, and that includes that iffy final episode of Enterprise.
Source: IGN