Posted by Bob Muir on May 21, 2013 in
Videogames
|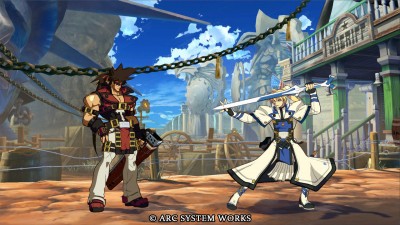 Like many fighting game developers, Arc System Works loves updating its games instead of putting out sequels. Guilty Gear XX — what you could say was the third major installment of the series — was released in 2002. Since then, it's been updated with Guilty Gear XX #Reload (2003), Slash (2005), Accent Core (2006), Accent Core Plus (2008), and most recently Accent Core Plus R (2012). Part of this was due to weird rights issues that prevented them from making a new game, which led to the spiritual successor BlazBlue (and its various updates). But after over a decade, Arc System Works is finally putting out a new major sequel: Guilty Gear Xrd -SIGN-.
As you watch the trailer, you might assume that the game is using high-res 2D vector art on top of 3D backgrounds, as BlazBlue does. But then the camera rotates around a sword clash and it becomes clear that these are actually 3D models rendered with the Unreal Engine. While I usually prefer 2D sprites/vector art instead of 3D models if it's a fighting game, I can't believe how good this looks. The 3D models are replicating the 2D style with great coloring and the same sort of frame-by-frame animation you might expect.
The word Xrd seems weird, but I guess it's their way of saying that this game is Guilty Gear XXX (or X3) without using that potentially misleading name. The -SIGN- subtitle is likely taking a cue from BlazBlue, so that future updates can simply have new subtitles. (The first BlazBlue game was BlazBlue: Calamity Trigger, followed by Continuum Shift and some smaller updates, with Chronophantasma being the most recent sequel.)
Confirmed characters so far are Sol Badguy, Ky Kisuke, Milla Rage, and Eddie. While I'm not quite sold on Ky's ponytail or the new song in the trailer by director Daisuke Ishiwatari, it still looks like it could be a very fun new fighting game. There's no word on a console port yet, but it will likely come later after the arcade release.
Source: YouTube