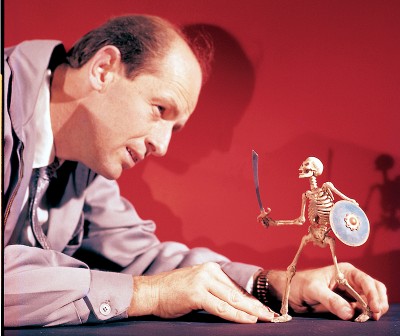 Ray Harryhausen didn't invent stop motion animation, but he certainly made it into an art form. Unlike computer graphics today stop motion animation was a painful art: You had to plan and pose puppets, and shoot them frame by frame. And there are 24 frames per second in film, so you can imagine how painful that sort of work was. Yet Harryhausen turned that tedious work into screen magic with a careers that lasted from the 1930s until very recently.
Here is a quick visual history of his craftsmanship:
This is a nice interview with Ray Harryhausen which shows a nice range of his work and gives his insights into his craft.
This is a George Pal Puppetoon Animation from 1938, keep in mind that this was only made a few years after King Kong and is done is Technicolor which was brand new.
This is a scene from Mighty Joe Young from 1949: Ray Harryhausen did most of the animation in this while working for Willis O'Brien who was the original animator of King Kong.
In 1953 Harryhausen worked on The Beast from 20,000 Fathoms, you can see some of his handy work through out this trailer.
And here we have the famous Cyclops scene from The 7th Voyage of Sinbad which was made in 1958.
This is the very creepy scene from Jason & The Argonauts which shows the awakening of Talos. I remember watching this as a child years after this was made in 1963 being really blown away.
By 1964 Harryhausen started to really perfect his craft: Here is the trailer for First Men In The Moon, notice how much more organic it feels than his earlier work.
By the late 60s and 70s a new generation of special effects artists started to rise in Hollywood, yet Harryhausen still kept doing his thing and he was very well known and loved. This is a TV spot for Sinbad and the Eye of the Tiger from 1977.