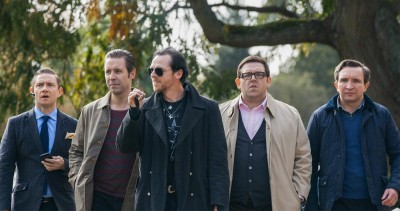 On July 19, Edgar Wright is putting out a third film starring Simon Pegg and Nick Frost called The World's End. You may have heard some people calling it the third film in Wright's "Cornetto Trilogy" or "Three Flavours Cornetto Trilogy," with Shaun of the Dead and Hot Fuzz being the first two films. Of course, despite featuring the same two main actors (and a slew of the same supporting actors), none of the films have any narrative connection. So why are the films a "trilogy" and what does ice cream have to do with it?
Wright, Pegg, and Frost go into lots of detail explaining it in this video, but sum things up, it's all a joke that evolved into them making a third film. After the first two films featured scenes of characters eating a red Cornetto and blue Cornetto respectively, people asked if there would be Cornetto in a third film, and everyone started joking about this being Wright's version of Krzysztof Kieślowski's "Three Colors" trilogy (Blue, White, and Red). Eventually, it just seemed natural for them to make a third film, even if it wasn't narratively connected, and yes, there will be green Cornetto at some point.
But beyond that, Wright does consider The World's End to be wrapping up and reflecting on themes he explored in the first two films of the trilogy. This kind of thematic trilogy isn't done as much these days, with audiences wanting explicit narrative continuity, but there's something to be said about exploring themes over the course of multiple films.
Source: IGN