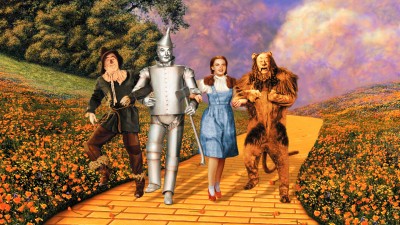 I love The Wizard of Oz. I am told that when I was only three years old, I would watch it (or parts of it) almost every day. So hearing that the classic movie would be rereleased this September in IMAX to coincide with a 75th anniversary Blu-ray release (in October) sounds amazing. Unfortunately, the movie will be undergoing the dreaded 3D conversion process.
3D post-conversion has improved in recent years, but it still looks noticeably worse than films originally shot in 3D. Add that to the fact that 3D is almost always superfluous, adding little or nothing to a film, and it's clear that studios are only doing it to help raise prices to rake in more cash in an era of continuing audience fragmentation. This is not to mention the film's somewhat-obvious sets and painted backgrounds, which will need special care to bring into 3D without looking completely fake. If they're smart, they'll take a page from how Tron: Legacy transitioned into the Grid and keep the 3D minimal or nonexistent until Dorothy enters Oz.
At least the film is getting a new restoration, which should be worth checking out if there are any 2D screenings. Otherwise, looks for The Wizard of Oz in IMAX for one week starting September 20. If there are no 2D screenings, I'll probably be sticking with the Blu-ray on October 1.
Source: USA Today