Posted by Bob Muir on Jun 13, 2013 in
Videogames
|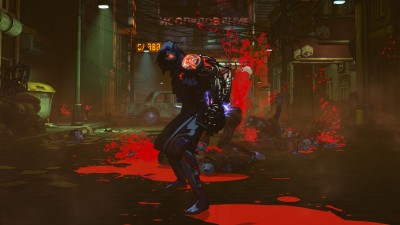 Since Team Ninja's Tomonobu Itagaki left Tecmo Koei, his baby Ninja Gaiden has been going through a rough patch. Ninja Gaiden 3 was critically panned, and while a Wii U version fixed some things, it still didn't match up to the first game in the revived series that had justified two updated versions since its original Xbox release. Enter Keiji Inafune, creator of Mega Man, who has left Capcom and is now working on new projects, including Yaiba: Ninja Gaiden Z.
Somewhere along the way, protagonist Ryu Hayabusa killed a man named Yaiba Kamikaze. In this game, he has come back to life and is a robot or something. Because dying is for suckers — "Honor and death go together like hot sauce and my balls" — he is out for revenge. But in the meantime, he's going to practice his killing on hordes of zombies, because every game these days has zombies.
It's Ninja Gaiden by way of Samurai Champloo and MadWorld. Traditional fans of the series may not be interested in it, but you can't say it doesn't look like it's having fun. Yaiba: Ninja Gaiden Z is being developed by Spark Unlimited on Team Ninja's behalf, which doesn't have the best track record, but hopefully they'll flourish under Tecmo Koei's guidance. The game is out on PS3, Xbox 360, and iOS in early 2014.
Source: YouTube