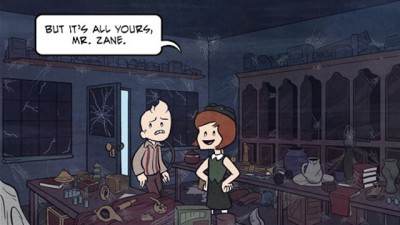 If you're into webcomics, you may have heard of Kris Straub. The man has been working in webcomics for years, with one of his earliest projects being Checkerboard Nightmare, a meta-commentary on webcomics. Chainsawsuit is a near-daily loose parody of poorly drawn gag-a-day comics, and last year he wrapped up his seven-year sci-fi comic Starslip. But his latest project, in my opinion, is his finest work yet, easily surpassing anything else he's done. Starting last year, Broodhollow is a story of a neurotic encyclopedia salesman traveling to a quaint town to receive the inheritance of a distant relative. Soon, he is begins to uncover dark secrets after strange events occur around him. As Straub puts it, it's "Tintin goes to Innsmouth," referencing both the adventure comic series by Herge and H.P. Lovecraft's quiet town with sinister secrets in the Cthulhu Mythos.
Straub has experimented with horror before, with the short fiction site Ichor Falls, which birthed the popular creepypasta story "Candle Cove." (It's since proliferated online, often without the original attribution.) In Broodhollow, set in the titular sister town of Ichor Falls, Straub draws on concepts he introduced on his previous horror site, reinterpreting them in with new characters and twists and mixing in more of his own neuroses and fears, which makes for a very personal yet relatable light horror story. The art style is inspired by 30s cartoons, but as more horrific elements pop up, it becomes much more realistic and twisted.
The first storyline wrapped up yesterday, which tells a complete story but obviously leaves a lot of questions open that will be answered as the comic continues. But to celebrate the end of this first story, Straub revealed a Kickstarter campaign to fund the publishing of the first story in book form. Titled Broodhollow Book 1: Curious Little Thing, all backers will receive the book in some form, whether it's a PDF version, a softcover book, or a hardcover book.
The Kickstarter has already reached its minimum of $27,500, which means that the book will definitely get made. At this point, further backing is a way for you to get a copy of the book and some of the many rewards, including post cards, posters, and pins. It also leads to stretch goals, like bonus desktop backgrounds and art prints for backers. At the time of publication, it has already reached $45,000, unlocking three stretch goals.
But you don't have to take my word for it: feel free to read the entire first Broodhollow book for free, starting with this strip. I enjoyed the comic so much that I felt compelled to own the first story in hardcover form and ensure that Straub gets the support he needs to keep drawing further adventures. Even if you don't back the book, I highly recommend at least reading the comic yourself, because it deserves a wider audience.
Source: Kickstarter