Posted by Bob Muir on Jul 31, 2013 in
Videogames
|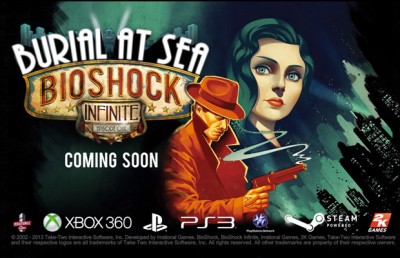 After much waiting, Irrational Games has finally revealed its DLC plans for game-of-the-year contender BioShock Infinite. Burial at Sea will be a two-chapter DLC that tells the story of an alternate reality Booker and Elizabeth who live not in Columbia, the city in the sky, but in Rapture, from the original BioShock, on the eve of is downfall. Unlike the first BioShock, which is set after the underwater city has torn itself apart, this story is at least partially set when the city is still functioning properly. It looks like a film noir story. But most enticingly is the fact that you will play the second chapter, set during the downfall, as Elizabeth, who will play much differently than Booker.
Burial at Sea hasn't been dated yet, but I'd expect the first chapter to arrive later this year, with the second chapter stated to arrive by March 2014. Each chapter will cost $15, but those who paid $20 for the Season Pass DLC obviously get it for free.
In the meantime, there's a new piece of DLC you can download right now: Clash in the Clouds. For $5 (or free if you have the Season Pass), you'll get four arena maps with 60 challenges. It's standard "horde" mode stuff where you fight waves and waves of enemies. Along the way, you can unlock new concept art, voxophones, kinetoscopes, and other materials in The Columbian Archeological Society. I'm not that astounded by this offering, but if you really enjoyed the main story's combat, this will be another big dose of fighting.