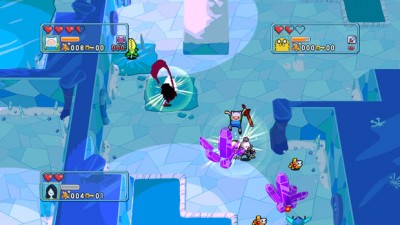 The first footage of Cartoon Network's next Adventure Time and Regular Show games is out! Both Adventure Time: Explore the Dungeon Because I DON'T KNOW and Regular Show: Mordecai and Rigby in 8-Bit Land are being made by WayForward, the 2D masters who also made the previous Adventure Time game Hey Ice King! Why'd You Steal Our Garbage?! However, the new AT game isn't a 2D sidescroller with an overworld (a la Zelda II) like the previous one was. The new game is a multiplayer dungeon crawler, where you can play as Finn, Jake, Marceline, and Cinnamon Bun — yes, Cinnamon Bun! But of course, it's got that Adventure Time charm, so I'd expect it to me more than just another Gauntlet game.
Meanwhile, WayForward's first Regular Show game switches between platforming as both characters, a Gradius-style SHMUP featuring Mordecai, and a Smash TV-style top-down shooter featuring Rigby.
Adventure Time: ETDBIDK! will be released on PS3, Xbox 360, Wii U, and 3DS, while Regular Show: MARI8BL will just be released on 3DS. Both games are due out fall 2013.