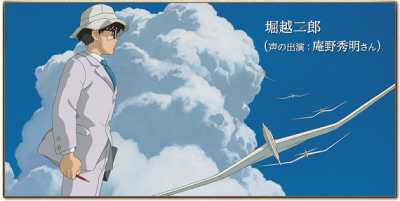 Though Ghibli has put out two films in the past few years, but while both were written by Hayao Miyazaki, neither were directed by him. His first film since 2008's Ponyo is Kaze Tachinu, or The Wind Rises. It's based on a manga that Miyazaki made in 2009, which is loosely based on Tatsuo Hori's short '30s novel The Wind Has Risen. It tells the story of Jiro Horikoshi, the man designed the Mitsubishi A6M Zero plane, one of the top fighters in World War II. But from watching this four-minute trailer, the movie seems to prioritize the joy of flight over pro-war statements.
However, considering that Horikoshi designed a plane that fought against Americans, I have a sinking feeling that this film won't see release in the US. Disney, typically the distributor of Ghibli films, didn't distribute From Up on Poppy Hill in the US, only distributing it internationally. Early reviews are also saying that kids find the film incredibly boring, though adults are enjoying it. Animation aimed at adults has always had a tough time in the US market due to the prominence of Disney's kid-focused (really, family-focused) features. So there could just be a lack of a market for what some knee-jerk audiences may consider to be poor subject matter.
But I hope it does get a release, because even when Miyazaki isn't turning in masterpieces like Spirited Away, he still makes some of the best animated films ever seen.
Source: YouTube