Posted by Bob Muir on Jul 30, 2013 in
Videogames
|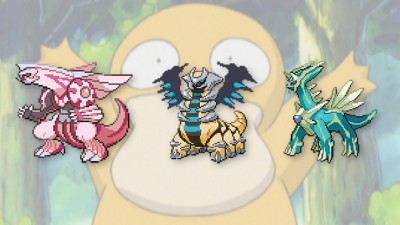 Dialga, Palkia, and Giratina are pokemon that control time, space, and antimatter, which is pretty powerful, as far as pokemon go. These were the box mascots for Diamond, Pearl, and Platinum, the fourth generation of Pokemon games, and haven't really been available outside of those games barring a special event in HeartGold and SoulSilver that not many players could access. Since they're difficult to get in the current fifth generation and we're on the edge of a sixth generation (Pokemon X & Y release on October 12), Nintendo will be giving them out free over the next few months. Even better, these are rare "shiny" versions, which means they have an alternate color scheme that is astoundingly rare to find without hacking!
You'll need to have a copy of Pokemon Black and White or Pokemon Black and White 2 to a US Gamestop — yes, it's stupid that they're not just releasing these using the DS's online network — during one of these time periods to download a free pokemon from their in-store signal:
Shiny Dialga: Monday, August 19 — Sunday, September 8
Shiny Palkia: Monday, September 9 — Sunday, September 29
Shiny Giratina: Monday, September 30– Sunday, October 20
And if you're from Canada, you can still get these rarities, but you'll have much less time to get them. You'll have to visit an EB Games on August 30 for Dialga, September 13 for Palkia, and September 27 for Giratina.
Source (and image): Destructoid