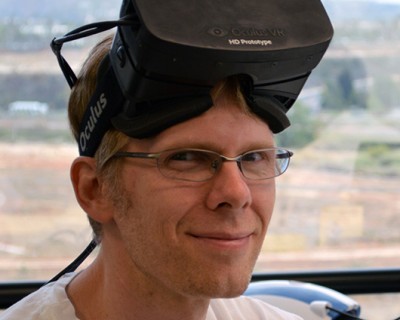 John Carmack, co-creator of Doom, co-founder of Id Software, and programmer on many, many computer games is joining Oculus VR, the company making the Oculus Rift, a virtual reality headset for use with games. Carmack was the one who debuted the device at E3 2012, and now he is taking a full-time position at the company as Chief Technology Officer (CTO). However, the award-winning programmer isn't really leaving Id, either. He's still planning on working on games, and he's also not abandoning his rocket company Armadillo Aerospace.
In Carmack's own words, "My time division is now Oculus over Id over Armadillo. Busy busy busy!" Hopefully he can manage all three positions, because the man clearly has a lot of passion and talent for all these interests. Good luck, John!
You can read his statement about joining Oculus VR on the Oculus Rift Kickstarter page.
Source: Kotaku