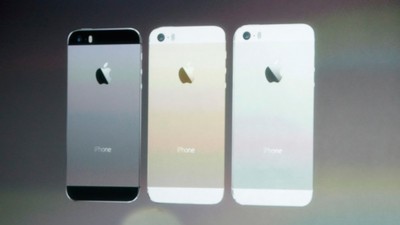 In what is surely not a shock, Apple has announced the next version of their smartphone, the iPhone 5S. Coming in white, black, and now a slightly-trashy gold, the iPhone 5S looks mostly the same as the iPhone 5, just like the iPhone 4 & 4S before it. There's a silver ring around the home button with a fingerprint ID scanner for security, but the main changes are under the hood. The new A7 processor reportedly makes this phone twice as fast as the previous one, while OpenGL ES 3.0 improves the graphical capabilities. There's also the M7, a motion co-processor, used for motion-sensing apps.
The battery now lasts for about 10 hours of talk time or LTE browsing. The camera is still 8 megapixels, but it now has a larger f/2.2 aperture and a 15% larger sensor, as well as dual-LED flash lights. It also has auto-image stabilization and a slow motion video option. The iPhone 5S retains the same price scheme: $199 for 16GB, $299 for 32GB, and $399 for 64GB, assuming you take a two-year contract.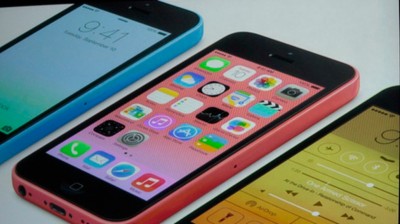 But that's not the only device Apple announced. If the iPhone 5S is too pricey for you, consider the iPhone 5C. It's basically an iPhone 5 on the inside (an A6 processor) with slightly improved battery life and a slightly improved front-facing camera. But the biggest change is the casing, which is now entirely plastic and offered in blue, green, white, yellow, and red, kind of evoking old iPod Minis or some older iMacs. This 16GB phone is only $99 with two-year contract, with a 32GB model for $199. Preorders begin this Friday for a release on September 20. There are also ugly silicon rubber cases with cheese-grater holes for $30 each, but I'd rather stick with better cases.
If you're buying an iPhone 5C, it will come with iOS 7, which will also be color-matched to your bright new phone. But for those of us sticking with our older phones, then you can download the update on September 18. It comes with a revamped Camera Roll, improvements to Siri, new productivity apps based on OSX apps, revamped Notifications, an overhauled flat visual style, and lots more.