Posted by Bob Muir on Nov 26, 2013 in
Videogames
|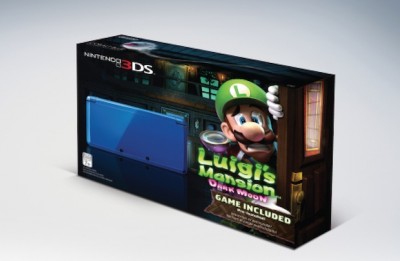 I'm still steaming because my Xbox One was broken out of the box (though my PS4 works great!), so let's talk about what's currently the best system out there: the Nintendo 3DS. Yes, what was once seen as a sign that Nintendo was doomed has made a major comeback over the last two years, with a library of must-play games that the PS4 and Xbox One won't have for a year or two. (Let's hope Nintendo can repeat that success with the Wii U, which is finally getting amazing games like Super Mario 3D World.) What's that, you don't have a 3DS yet? I wouldn't admonish you if this were 2011, but it's something you now need if you're a gamer. Luckily for you, there are several Black Friday deals highlighted by Nintendo themselves in a recent press release.
One new bundle available everywhere is a cobalt blue 3DS with Luigi's Mansion: Dark Moon pre-installed for $169.99 (normally $209.98). Walmart has the 2DS (the non-foldable model with no 3D) for $99.96 (normally $129.99). Target has 3DS XL models for only $149.99 (normally $199.99). And while it's not a 3DS, it's worth noting that Nintendo Land (for Wii U) will come with a Luigi-themed Wii Remote Plus for only $59.99. There don't seem to be any special Wii U deals, though there was a recent price drop to $300; you have your choice of a bundle with The Legend of Zelda: The Wind Waker HD (with special Zelda controller) or a bundle with New Super Mario Bros. U, New Super Luigi U, and a Mario-themed Wii Remote Plus.
They're all good deals — especially the 2DS, which is a great gift for young kids at only $100! — but if I could make a suggestion, I'd go with the 3DS XL for $150. It's a great deal and my personal favorite of the various models. But I'd also suggest that you try to hunt down the limited edition Zelda 3DS XL, which is gold & black and comes with a digital copy of The Legend of Zelda: A Link Between Worlds. At $219.99, you're only saving $20 off the normal $40 price of the game, but this 3DS XL will go fast on Black Friday and it's pretty sweet.
Since I'm already all geared up, I'll be trying to get that Nintendo Land with Luigi Wii Remote. Happy hunting!