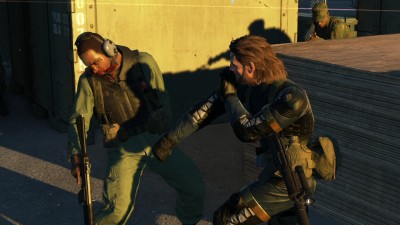 At this point, it's hard to tell whether Konami has been poorly communicating information about Metal Gear Solid V on purpose (a la Metal Gear Solid 2) or if it's just due to their usual bad management. We had heard that there would be two parts to the upcoming sequel: Metal Gear Solid V: Ground Zeroes, a prologue (similar to MGS2's Tanker scenario), and Metal Gear Solid V: The Phantom Pain, the main, longer game (similar to MGS2's Big Shell scenario). After the rather inelegant reveal that The Phantom Pain, a game advertised as an independent game made by a fake studio, was unsurprisingly MGSV, conflicting information suggested that both parts of the game would be sold together. Konami has just announced that this isn't true: Metal Gear Solid V: Ground Zeroes will be released by itself in Spring 2014.
Yes, this "prologue" will cost $19.99 digitally and $29.99 on disc on PS3 and Xbox 360. If you want to see the full beauty of Kojima Production's new Fox Engine, you can also get the game on PS4 and Xbox One, but it will be digital-only and cost $29.99. (Where's the next-gen retail release?) The game will introduce new elements and start the story of Metal Gear Solid V, so that it can "ease players into the new open world environment and its potential, according to Hideo Kojima.
This isn't the first time a game has had a paid prologue. The Gran Turismo series has had more than one version released with "Prologue" right in the name, offering a slice of the new cars and tracks that would be featured in the next "full" game. A month before Dead Rising 2 released, Dead Rising 2: Case Zero was released as a stand-alone game, serving as a paid demo with a unique story and environment not found in the full game.
But what's strange about this is that not only are there two games that bear the name Metal Gear Solid V — off the top of my head, the only non-spinoff game in a series to do that is Persona 2 — but that previous games with this kind of set-up included both games in one package. As noted above, MGS2 had two distinct chapters, as did MGS3. Konami will probably rationalize this as wanting to get players comfortable with new mechanics while they wait for the rest of the game to be finished. But from my perspective, it looks like a money-grab.
We obviously don't know how long this prologue is, so maybe the price will be justified. However, I wouldn't be surprised if this is also included with the second part of the game, whether in every standard copy or in a collector's edition bundle.
Source: Kotaku