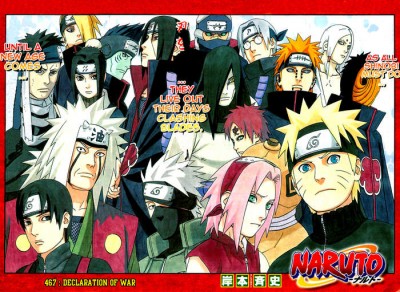 It looks like the Naruto manga is getting close to ending. Author Masashi Kishimoto recently gave a message to TV Tokyo's Sakiyomi Jan Bang!, which often covers manga from Weekly Shonen Jump and its related magazines. In that message, Kishimoto implied things were getting close to the end, though he didn't say exactly how much longer things would last. Fair warning, there are spoilers in his message, especially if you only watch Naruto Shippuden, which is further behind in the story than the manga.
Here's what Kishimoto said: "The battle of Naruto and his comrades is in its final phase, in the truest sense of the term. About the Ten Tails, about Madara, and then, about Sasuke…I will continue to raise the tension without restraint, in every way I can! Please follow this story of a boy named Naruto a little while longer, I will greatly appreciate it."
I first started reading Naruto with the American Shonen Jump's second issue way back in February 2003. Since then, I stopped reading somewhere during Naruto Shippuden, but it's hard to imagine an anime/manga landscape without Naruto since it's been such a constant in anime culture. Obviously the anime would take a little longer to end, since it would have to catch up to the manga, but I guess this is the end, folks. Bleach is also winding down and will end…at some point (the anime is essentially on a break right now), leaving only One Piece to continue in terms of the "big three" shonen fighting anime. And even One Piece — actually, there's no signs that it's stopping, even though it's entered its second half. Still, it's time for fresh blood!
Source: Crunchyroll