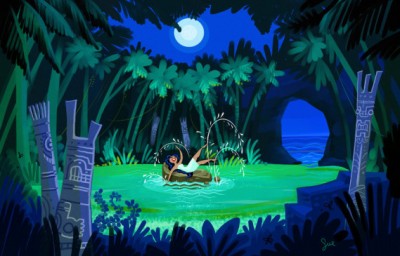 Frozen just came out, and Disney's next animated film is Big Hero 6 in November 2014. But what everyone really wants to know is what's planned for 2018? For those who are interested, Disney has announced what the movie is going to be: Moana. Disney is returning to the Pacific area they last explored in Lilo & Stich, though this time they're venturing away from Hawaii and straight to Polynesia. But what will the film be about?
Straight from Disney's mouth, the synopsis reads: "The main character will be Moana Waialiki, a sea voyaging enthusiast, and the only daughter of a chief in a long line of navigators. When her family needs her help, she sets off on an epic journey. The film will also include demi-gods and spirits taken from real mythology."
Moana sounds like a fun romp, supposedly set 2000 years ago. But right now, it's still unclear how it will look. While it's confirmed that it will be animated with CG, some sources say that it will use animation similar to Paperman, an Academy Award-winning short film that mixed 2D and 3D animation techniques. All that's known is John Musker and Ron Clement, who directed such films as The Little Mermaid, Aladdin, and The Princess and the Frog, are directing the film, while Mark Mancina is handling the music.
In the meantime, we've still got Big Hero 6, Zootopia, and Giants, so don't get too excited about the movie yet. I just hope it looks similar to the art at the top of this post, because I love the vintage travel poster look.
Source: io9