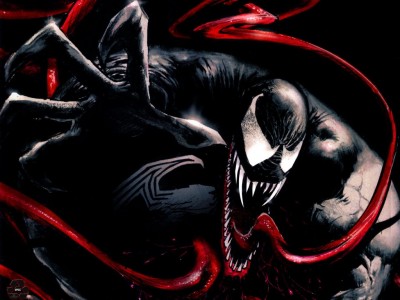 Keen eyes may have noted two interesting hints in the recent trailer for The Amazing Spider-Man 2. At one point, you can see suits in the background that look like they might be intended for Vulture and Doctor Octopus. And with Electro being one of the main villains in the next movie, it's easy to imagine a scenario where some other villains join these three to form the Sinister Six, perhaps even the Green Goblin/Hobgoblin and Rhino that are appearing in next May's movie. Well, Sony just confirmed that they'll be producing two spin-off movies: The Sinister Six and Venom, the latter of which has been rumored for years.
Yep, it seems that The Amazing Spider-Man 4 might be The Sinister Six, since Andrew Garfield has said that he has nothing to do with the fourth film. This begs the question of where Spider-Man will be in his own franchise, since it's not like Sony has the rights to other Marvel characters, but writer (and possible director) Drew Goddard presumably has some idea. Alex Kurtzman is directing Venom, now that he's not working on Star Trek 3. And both of them are working with Marc Webb, Roberto Orci, Jeff Pinkner, and Ed Solomon as a "brain trust" to keep the films linked together in the style of the Marvel Cinematic Universe.
As a quick rundown, here's the expected release dates of these upcoming films. The Amazing Spider-Man 2 is out May 2, 2014, while The Amazing Spider-Man 3 (to be written by Kurtzman, Orci, & Pinkner and ideally directed by Marc Webb again) is set for June 10, 2016. There's an announced date of May 4, 2018 for The Amazing Spider-Man 4, but if that movie is The Sinister Six, then expect to see it then. Venom currently has no announced release date.
It'll be interesting to see what Sony does, but I'd be lying if I said I didn't want all these rights to revert to Marvel so they could incorporate Spider-Man into the Marvel Cinematic Universe. I think he'd be a great fit, but alas, it seems Sony has no desire to give up the rights. At this rate, the MCU will probably be rebooted before Spider-Man can enter the picture.
Source: /Film