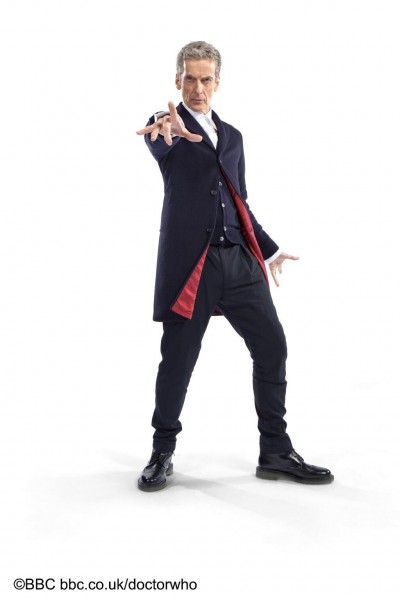 Part of the excitement of getting a new main actor on Doctor Who is seeing what he's going to wear. Sometimes you wind up with something unique and classic, like Tom Baker as the Fourth Doctor, and other times you wind up with possibly the worst outfit ever cobbled together, like Colin Baker as the Sixth Doctor. Now that Peter Capaldi has taken over the role as the Twelfth Doctor and filming has begun, we finally get to see how his version of The Doctor will look. And how he will look is pretty cool.
As the first older actor* to play The Doctor since Sylvester McCoy (as the Seventh Doctor in the TV movie who quickly regenerates into Paul McGann) and the oldest overall* since William Hartnell's First Doctor (both started playing the role at age 55), Capaldi likely won't act as youthful as David Tennant or Matt Smith. However, he won't be any less stylish. His outfit is a bit dressy, but the style and red-lining harken back to Jon Pertwee as the Third Doctor (but with considerably less frills). I'm liking it, but I'd be open to it being tweaked with a tie or some slimmer pants.
Of course the hardest wait will be for the next season to start so we can actually see him in action!
*Yes, John Hurt has played the War Doctor, which makes him the oldest at age 73. But I'm just talking about the main Doctors, not the side Doctors like the War Doctor or the Valeyard.
Source: BBC