Posted by Bob Muir on Jan 28, 2014 in
Videogames
|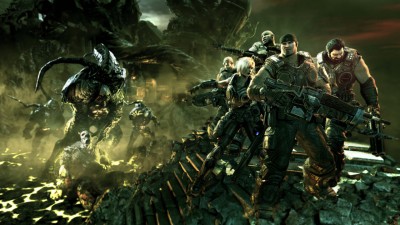 "Wait, I thought Microsoft already owned Gears of War, the solid dude-bro cover-based shooter that helped cement the Xbox 360's reputation throughout it's lifetime!" Well, other than helpfully recapping what Gears of War is, that would be wrong, Mr. Strawman-I-Made-Up! Epic Games, the developer, owned the IP and made an exclusive agreement with Microsoft for the game to be Xbox 360 exclusive. After an initial trilogy and a spin-off by a different developer, Epic seemed to have cooled on making any more games in the series. (And there's nothing wrong with a series knowing when to end instead of running forever!) But now Microsoft has bought the IP, and there's not much reason to do that unless you plan on making more games in the series.
A new Gears of War is supposedly in development at Black Tusk, while Rod Ferguson, Epic's former director of production on the games, is joining Microsoft so that he can work with Black Tusk in a key role. Cliff Bleszinski, the designer for the original trilogy and public face of the development team, has said that he will not be returning to work on the series anymore. Meanwhile, Epic is going to continue working with Microsoft on Unreal Engine 4 for Xbox One and presumably will make another game at some point in the future.
I never got around to playing Gears of War: Judgment, but I did enjoy the trilogy quite a bit. I'm just not sure where you can take the game or story at this point. I think I've killed enough Locust and Lambent to satisfy me for the rest of my life.
Source: Kotaku