Posted by Bob Muir on Mar 18, 2014 in
Videogames
|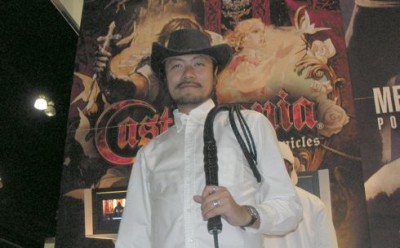 You could argue that there have been three main "eras" of Konami's Castlevania series. The first era contains the classic 2D action games that started on the NES. The second era began with Castlevania: Symphony of the Night, which redefined the series with Metroid-like progression and RPG elements, and ended with Castlevania: Order of Ecclesia. The third era includes the middling Castlevania: Lords of Shadow games and whatever other random entries were released while Konami tried to figure out what it wanted to do with the series. Those second era "Metroidvania" games are easily some of the best in the series, only out-done by the level design in a few of the earlier action games, and most of them can be traced to producer Koji "IGA" Igarashi, the cowb0y-hat-wearing, whip-wielding man who was the heart behind Symphony of the Night. But it looks like he'll never return to Castlevania, as he has announced his departure from Konami.
It's not surprising, really. While systems past the PS1 offered the potential for even greater 2D graphics than Symphony of the Night, gamers had not yet welcomed 2D platformers back into their life yet. It wouldn't be until the digital revolution spearheaded by indie games on PC, PS3, and Xbox 360 that gamers would realize that not every game needed to be in 3D. Until then, Igarashi was torn between trying to recreate Symphony of the Night in 3D on consoles and trying to advance the 2D set-up on handhelds. Reading between the lines, it's obvious that Konami (well-known in the present day for poor management) didn't place much faith in him or the Castlevania series, which was always more popular outside of Japan, their target market. It nearly broke my heart to see Igarashi shilling tripe like Castlevania: Judgment, a Wii fighting game that boiled down to shaking the Wiimote a lot. With Konami moving onto more modern 3D fare like Castlevania: Lords of Shadow, it doesn't seem like they have any desire to return to the more well-designed roots of the series.
Igarashi plans to open his own development studio, where I hope he'd be able to make the sort of 2D Metroidvania games he clearly has a lot of affection for. I would not be surprised to see a Kickstarter soon for a spiritual successor to Castlevania, much in the same way that Keiji Inafune did one for Mighty No. 9 after the Mega Man creator left Capcom. Then he could make whatever kind of Castlevania-like he wanted. Hopefully he keeps the cowboy hat and whip.
Source: IGN