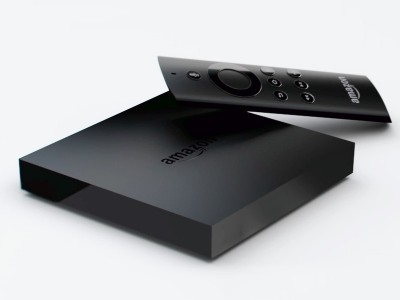 As rumored, Amazon has been working on a set-top box that will stream video and play videogames. Now they've announced the Amazon FireTV, which does that! The box uses a quad-core 1.7 GHz CPU, dedicated GPU, 2GB of RAM, 8GB of storage, and a dual-band wireless radio with two antennas (for streaming 1080p over WiFi) to try to outperform Apple TV and Roku. Naturally, it has access to Amazon Prime, but there are all the usual video and music streaming apps, plus more specialized ones like Twitch and WWE; users can compare prices between various apps to see where it's cheapest to watch a movie. The remote is also special, with a microphone included that allows you to search content with your voice. Or you could use Amazon's bells and whistles to have it predict and cue up what it thinks you want to watch.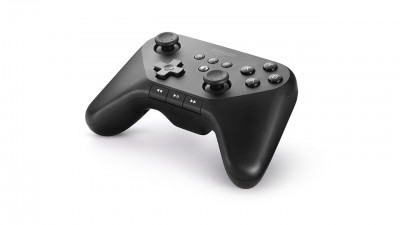 Of course, it also plays videogames, but the box isn't trying to compete with major consoles. It's aiming for people who play phone and tablet games, with thousands of games starting at 99 cents (or some free-to-play) available by the end of the month; the average game costs $1.85. Amazon has also recently acquired Double Helix Games, though for now Amazon Game Studios is launching Sev Zero. While you can play the games with the remote or a special smartphone app, the best option will be the Amazon Fire Game Controller, sold separately for $39.99. If you buy the controller, you'll get 1,000 Amazon Coins to spend on games.
The Amazon FireTV looks like a solid piece of technology, but I'll admit to having some skepticism about it. There are so many options for streaming video to your TV, and I'm not sure the ability to play mobile-styled games — usually used by casual gamers as timewasters while they're out and about — will draw mainstream attention. Amazon is going to have to work hard on selling this thing, even if the system itself is fine.
But if you're still not interested, at least consider watching this video. It's perfect.
Source: Polygon