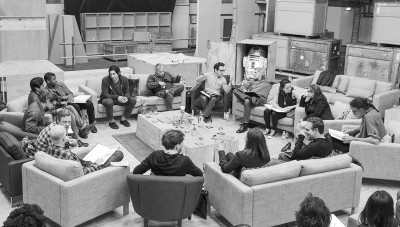 After much speculation, we now know the stars who will be warring in Star Wars Episode VII. As expected, Mark Hamill (Luke Skywalker), Harrison Ford (Han Solo), Carrie Fisher (Leia Organa), Anthony Daniels (C-3PO), Peter Mayhew (Chewbacca), and Kenny Baker (R2-D2) all return. The newcomers are John Boyega (Moses, Attack the Block), Daisy Ridley (an unknown), Adam Driver (Adam Sackler, Girls), Oscar Isaac (Llewyn Davis, Inside Llewyn Davis), Andy Serkis (Gollum, The Lord of the Rings), Domhnall Gleeson (Bill Weasley, Harry Potter and the Deathly Hallows), and Max von Sydow (who's been in tons of stuff).
It's an interesting cast list, to be sure. It had all been confirmed that the established actors were returning. Andy Serkis is a pleasant surprise; it's unclear whether he'll be appearing himself or providing motion-capture and a voice for a CG character, but the latter is more likely, given the mastery of his Gollum performance. Max von Sydow is another interesting choice, having played chess with Death in The Seventh Seal, performed Ming the Merciless in Flash Gordon (an inspiration for Vader and Palpatine), fought James Bond as Blofeld in Never Say Never Again, and menaced a baby as Vigo the Carpathian in Ghostbusters II. In short, he's well-established, and I wouldn't be surprised to learn that he's playing the villain of the film.
It is a somewhat disappointing list, however. Boyega is the only person of color in this entire announcement, and besides Fisher, Ridley is the only new female star. Out of 13 stars, only two of them aren't white guys. That doesn't mean these aren't solid or interesting choices, and we obviously need to see more to learn how appropriate the casting is. Yet it's disappointing to see Star Wars overwhelmingly dominated by white dudes once again, despite the numerous female and minority fans it has around the world. It seems that the writers just didn't care to reflect the wide diversity shown in the Star Wars Expanded Universe (that is now solidly non-canon).
Source: Star Wars