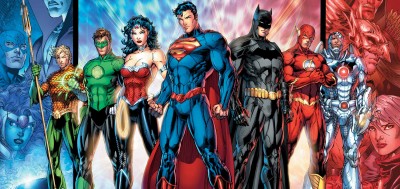 We all knew that Warner Brothers and DC wanted a piece of that sweet crossover pie that the Marvel Cinematic Universe has been enjoying. But instead of doing several related movies as origin stories (like Man of Steel) and leading into a big team-up, they're starting with the second movie in their new franchise: Batman vs. Superman (which should really have an official name by now). After many, many rumors since 2013 about a big team-up movie, Warner Brothers's president of worldwide production Greg Silverman has confirmed that the third film in this series will be Justice League. And it will be directed by Zack Synder. Here's where I begin to sigh.
There's no date announced yet, but considering that WB gives more breathing room to its DC films than Marvel does, it will likely be released sometime in 2018 or 2019, considering that Batman vs. Superman is coming out in 2016. (It's currently scheduled for the same date as Captain America 3, which I expect will be changed after the excellent critical and box office performance of Captain America: The Winter Soldier). The script is already in development, though the screenwriter was not named. Considering that David Goyer has a three-picture deal with WB that supposedly includes Justice League, as well as the fact that he has written Man of Steel and Batman vs. Superman, I'd say it's safe to say that he's the screenwriter.
It is believed that Henry Cavill, Ben Affleck, and Gal Gadot will reprise their roles as Superman, Batman, and Wonder Woman respectively from Batman vs. Superman in the Justice League film. With Ray Fisher recently cast in a minor role as Cyborg in the upcoming film, it is likely that it is a set-up for him to join the team in the third film. More interesting to me is that Gadot supposedly has a three-picture $300,000-per-film deal that will cover these two movies and a stand-alone Wonder Woman movie. There have been several attempts to give Wonder Woman a movie over the years, but they were often plagued with problems and abandoned, or simply declined because DC doesn't know what to do with its most prominent female character. According to Sue Kroll, they aren't developing the movie yet, but "with the right script, that could be viable. The world is ready for her." How bold! Meanwhile, Marvel is considering movies for Black Widow and Ms. Marvel, and their next movie features a living tree and a talking raccoon. I think one company trusts the audience's ability to handle non-stock superhero leads more than the other company.
More concerning is the confirmation that WB has films based on other DC and Vertigo comics in the works, including Shazam, Metal Men, 100 Bullets, and Fables, but none of them will be tied into this series. Um, why? Vertigo titles aside, why is Shazam not going to exist in the same universe as his fellow heroes?
This all seems indicative of WB and DC's complete lack of foresight. Each of their movies tends to stand-alone, and sequels function as sequels instead of conscious continuations or steps. While DC has just as rich a universe of comic heroes as Marvel, it seems that WB doesn't know how to exploit them all together. This works for superheroes like Batman, who are already loners (and who I personally think work better in a world without Superman), but there's no reason why they couldn't be pulling off the same mega-franchise that Marvel has been working on. Fox will soon tie together the X-Men and Fantastic Four franchises they've licensed from Marvel. But DC seems to only think on a per-movie basis, and it's going to really hurt future films in this new series.
This is not to mention how grave an error their direction is for the series. While Batman worked well with Nolan's gritty, dark style, it was an absolute disaster to drag the iconic Superman into the depths of angst and gray morality in Man of Steel. Once again, Marvel has proved that superheroes can be colorful and morally good while still providing complex characterizations and interesting, non-cliched stories. Meanwhile, Zack Snyder has never been that great of a director, and David Goyer's scripts are ham-fisted and amateurish without someone (like Christopher Nolan) to co-write them.
Again, it's too early to say that either film will be horrible. But the signs are there, and they're even more foreboding while the Marvel Cinematic Universe is soaring high. To paraphrase an old marketing slogan from the 90s videogame wars: Marvel does what DC don't. (Eh, I guess it worked better with Sega and Nintendo.)
Source: /Film