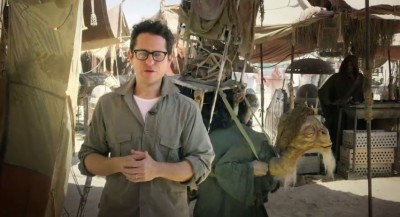 One of the best parts of the original Star Wars trilogy were all the practical effects, mixed with worn elements to give the impression of a realistic, lived-in world. One of the biggest failings of the prequel trilogy was tossing that out the window in favor of clean cities and cartoon aliens, all rendered in fake-tacular CGI. Director J.J. Abrams has previously expressed his plan to use practical effects in Star Wars Episode VII (as well as shoot on film). In a video today, we got our first peak at a new alien — and he's a puppet!
Abrams' latest video has him promoting Star Wars: Force for Change, a new campaign trying to raise funds for UNICEF's Innovation Labs, which can help benefit children in need. By donating at least $10 — Disney is chipping in $1 million itself — you can be entered for a chance to fly to London, go behind the scenes, meet the cast, and get put through costume and make-up to be filmed for a scene in the movie. Yes, this is a chance for the little person to be a part of the next Star Wars movie.
But while that's exciting and charitable, I'll profess to being much more excited about the random alien that wanders through the set while Abrams is pitching the concept. He's a puppet, and I think he looks great, almost reminiscent of Yoda's puppet. While it would be foolish to expect this movie to be done without any visual effects, it's incredibly promising that this guy looks so good. Hopefully the movie will focus on these kind of creatures and keep the CGI aliens to a minimum.
Source: YouTube