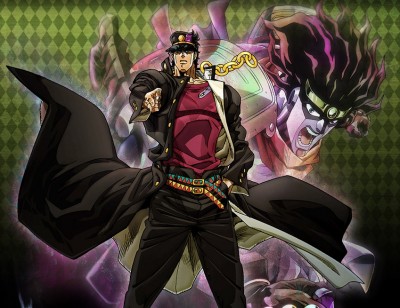 JoJo's Bizarre Adventure is a manga that has been running in Weekly Shonen Jump and Ultra Jump since 1986, spanning generations of the Joestar family having fights with bad guys and doing fabulous poses. The most popular portion is the third part, Stardust Crusaders, which is the only part of the manga released in America, as well as a partial anime OVA adaptation and a fighting videogame. So despite tons of content, most of the story has never seen an official release outside of Japan. But with a currently-running anime adaptation in Japan that started at the very beginning, that may change, especially due to a new announcement.
In a pleasant surprise, Crunchyroll has announced that it will stream an English dub of the first three episodes of the current anime's second season, JoJo's Bizarre Adventure: Stardust Crusaders. (The first season, which aired in 2012, covered the first two parts, Phantom Blood and Battle Tendency.) Apparently, there will be a panel at Anime Expo (July 3-6 in Los Angeles) with executive producer Satoshi Adachi, producer Hiroyuki Omori, and producer Ryosuke Mori. There will also be a special screening event of the first three episodes dubbed in English. The cast will feature Matthew Mercer as Jotaro Kujo, Richard Epcar as Joseph Joestar, and Patrick Seitz as DIO.
But if you can't make it, Crunchyroll members will be able to stream the episodes between the start of the event and midnight (PST) on July 6. It's a pretty short window, but hey, it's a really quick turn-around for a new show that will still be airing in Japan!
These three dubbed episodes may be an indication that a company has licensed JoJo's Bizarre Adventure: Stardust Crusaders for release in America. I'd hope that they also snagged the rights to the first season, considering how only the third part has gotten any international love in the past. But I'd say it's possible, considering the recent English release of JoJo's Bizarre Adventure: All Star Battle on PS3, which features characters from every storyline.
Still, it's worth keeping in mind that many of the characters' names will likely be changed for this version, as they were in All Star Battle and the Crunchyroll subtitles for the anime. While the main characters are pretty safe, many characters' names are references to various musicians that may have been okay in Japan but would expose the property to legal action in the US. It's a shame, but I suppose it's unavoidable.
Source: Crunchyroll