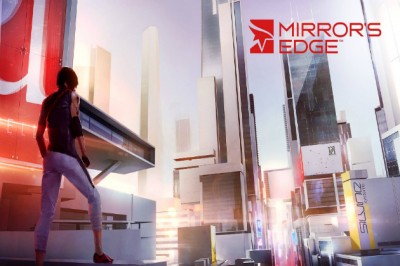 The second press conference of E3's "Day 0" was Electronic Arts, and while there was new stuff shown off, it is unlikely to get you into a frothing mess of anticipation. They began with their studio DICE, who showed some early in-engine footage of Star Wars: Battlefront, coming Spring 2015, and the environments looked gorgeous. The Star Wars license looks like it's in good hands.
And though it was shown off at Microsoft's conference, EA showed another trailer and more gameplay for Dragon Age: Inquisition, featuring a party fighting a dragon as the player switched between the characters. But mostly, we saw a lot of the same stuff, so I won't bother inserting the video here.
As the Mass Effect music started up, BioWare started talking about some of the broad themes of their next game. Concept images were shown, including vast alien landscapes and some city ruins. No concrete info was given, but some of the developers seemed to hint that the game may not be a sequel to the original trilogy. BioWare also confirmed that they were working on a new, currently unnamed game that will be a new IP.
The Sims 4 was shown off next. It looks like it has many more customization options, personalities (which are even more focused on for interactions), and things to do. There's a gallery that you can use to share your content with other players. Then, someone laughs to death and Death checks it off on his iPad. I'll admit, I haven't played a Sims game since the first one, and other than the improved graphics, I'm not sure how many of the things in the trailer are improvements, because the core gameplay still looks similar.
A bunch of sports games were covered, so I'll run through them quickly, because I don't really follow sports. Suddenly, Bruce Lee was on the screen talking about fighting like water. EA's next UFC game features Lee, who arguably invented MMA. Footage was shown off, of Bruce Lee fighting BJ Penn, with lots of wrestling. The game is out next week, June 17, 2014. NHL 15 was shown with new physics, and it was certainly hockey. Criterion, known for Burnout, started talking about a really early game they're working on about racing helicopters, bikes, boats, trucks, and pretty much anything you could use to race. There wasn't any details other than some very early footage. PGA Tour 15 was shown, running on the Frostbite 3 engine. It was described as "golf without limits." While there are realistic areas, there are extreme fantasy courses, like a battleship crashing into a course. It's coming Spring 2015. Madden 15 is promising to make playing defense more fun. There are new camera options and ways to block offense. The game is coming August 26, 2014. FIFA 15 is more soccer/football: players have "memory" and react to events and each other. The game is out this fall.
EA is building a MOBA (think DOTA or League of Legends) called Dawngate. They wanted to build on the basic game style and enhance the meta. They claim there's a lot of story in this MOBA.
Mirror's Edge 2 was announced at last year's E3, but we still don't have much. A bunch of concept art from DICE was shown off, along with some short clips of gameplay. Faith never fires a gun, using parkour to take down enemies in a white city, notably keeping her momentum after knocking a guy out. More advanced players can use some of the new techniques to get to their destination faster, while a less skilled player might use simpler techniques along a longer, but safer route. Faith is also shown getting her tattoos. The game seems like it will still be a way off, likely 2015. I was really hoping to see a lot more, but I guess that's all we get for now.
Dead Space developer Visceral's next game, Battlefield: Hardline, was the next game covered. This is essentially a SWAT variant of Battlefield, normally developed by DICE. Set in LA, the demo showed a TV changing channels and then leading into a "live broadcast" of the game itself. Police are chasing after a perp, driving before stoping to have a shootout. Cars are blowing up left and right. The view switched back and forth between the team of cops and the team of criminals, who were trying to escape with loot. The battle is rather chaotic, with one cop flying in from a helicopter. The battle moves into a building, where everything is shot with a million bullets, and up to the roof. People jump off the building and parachute down while a helicopter crashes, then the criminals are cuffed. A beta is being launched today on PC and PS4, first-come, first-serve, so go sign up now.
Overall, this was a rather boring show. I'm always bored by sports game coverage, though I know there's certainly a giant audience for it. But almost everything was already announced (with similar trailers), and though the Battlefield: Hardline footage was great, I'm sure many people were hoping for much more information on Star Wars: Battlefront, Mass Effect 4, and Mirror's Edge 2 than we got. Though to be fair, this is about par for the course for EA. They leave most of their big reveals for the Big Three press conferences, and their announcements or reveals are pretty much what you'd expect. Oh well, there's plenty of other interesting stuff to watch during E3.