Posted by Bob Muir on Jun 12, 2014 in
Videogames
|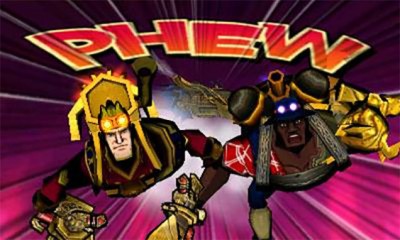 Nintendo promised one more big 3DS announcement at E3, and it's Code Name: STEAM. It's an original IP with elements from comic books, steampunk, Abraham Lincoln, aliens, and more. Hitoshi Yagami (Fire Emblem, Xenoblade Chronicles) is working with Intelligent Systems (Fire Emblem, Advance Wars) to make a turn-based strategy game with action elements from shooters for movement and attacking. As expected from such a mix of influences, the game's concept is pretty wild too.
Code Name: STEAM is about a group founded by Lincoln to fight aliens inspired by H.P. Lovecraft's creatures. The fighters run on steam, using the boilers they carry to execute a limited number of attacks. When fighting, the camera moves from overhead to behind the character, a familiar camera angle that Nintendo hopes will ease people into the strategy aspects. The game is set in London, though it's fairly steampunk, with airships flying around. And the game is cel-shaded in a style reminiscent of Silver Age American comic books.
People have been asking for completely original characters and franchises from Nintendo for years. While Nintendo has made new series since then like Nintendogs and Wii Sports, and while they've used existing characters for completely new games like WarioWare and Kid Icarus: Uprising, and while they're continually releasing original games digitally on 3DS…gamers often believe 2001's Pikmin to be the last time an original, memorable franchise was created. I think that between Code Name: STEAM and the Wii U's Splatoon (announced earlier this week), along with numerous other strong franchises and weird offshoots, Nintendo is finally bringing out the big guns in terms of games.
Sadly, Code Name: STEAM won't be released until 2015, so we'll all have to wait until then.