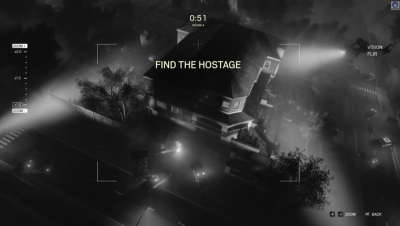 Following EA's disappointing press conference, Ubisoft attempted to pick up the excitement by showing something cool right from the start. Instead of beating around the bush, they went right into showing their biggest recently-announced game: Far Cry 4.
Ubisoft showed off the first five minutes of the game. While riding on a bus in the Himalayas, your first-person character witnesses soldiers shooting the bus to stop. A slick man with fabulous hair, King Pagan Min (the dictator of Kyrat), gets out of a helicopter and kills a soldier for shooting the bus instead of stopping it. He warmly greats the player, hinting that you two have some sort of past, snapping a selfie together. He promises you two will "tear shit up" together. The character shown looks very memorable, as memorable as Vas in Far Cry 3. And naturally, the game's environments look beautiful.
Aisha Tyler came on stage as the host, as in past years, though she admits to not dancing that much as she introduced Just Dance 2015. Honestly, it looks similar to previous Just Dance games, but now it has "Happy" by Pharell Williams. If you're into this series, you probably are already planning to pick it up to dance to the newest songs. One new feature is Just Dance Now, which lets you play in real-time across phones and more, latency-free. You can play with anywhere from 4 to 20,000 people (or more, it seems) at the same time, as the phone senses your dance motions. I'd be interested to see that latency-free syncing used in some other games.
Next up is Tom Clancy's The Division, which was already covered at Microsoft's press conference this morning. This new trailer explained more about the pandemic that wipes out NYC in the game. You start playing three weeks after a virus wipes out most of the city, and you need to figure out the conspiracy behind the virus. While nothing in the trailer was gameplay, it looked like some of it could potentially be in-engine (or close to the actual graphics), perhaps running on PC.
Up next was The Crew, Ubisoft's MMO driving game, announced last year. You can drive from Miami to Los Angeles, all the way across the US, with no loading screens. To prove it, the game's trailer was all in-engine footage sped up to show most of the trek, taking the most roundabout route possible up through the northern states. It looks great, but there are a bunch of open-world driving games available or coming out, so it will have fierce competition. There will be a closed beta on July 23, that you can sign up for here.
Though it was previously covered with gameplay at Microsoft's event, Ubisoft displayed a prerendered trailer setting the tone for Assassin's Creed: Unity. Set in 1789 during the French Revolution, a bird flies over soldiers fighting in the streets. Naturally, an assassin drops in to mix things up, but this time there are four instead of one, as the game features four-player co-op. Supposedly, the building blocks of the game have also been completely redesigned, though the footage earlier seemed similar to past games, like a natural evolution of previous mechanics. A different assassination mission was shown, this time with only one player, though more joined at the very end of the demo. What really stands out is how many NPCs there are in the demo, far more than previous games, which makes the world feel more real when combined with the higher level of detail.
Aisha Tyler next introduced Shape Up, a new Kinect fitness game on Xbox One. You can challenge your friends and recordings of yourself to see who can get the best workout. A developer played a DDR-esque stepping game with four buttons to step on, moving around a lot while "Eye of the Tiger" played. The game has a bit of personality in its graphics, with some retro-inspired UI elements. An American developer competed with a French developer in a push-up competition, with their in-game characters getting more and more junk like statues and giant donuts dumped on their virtual backs. (The American won, incidentally.)
Valiant Hearts: The Great War was shown next. This game is a hand-drawn comic-styled game about the horrors of World War I. The trailer looks nice, animated rather stiffly like a Flash game, but with nicer art. A dog follows characters through most of the trailer, but sadly sits on one of many graves near the end. No gameplay was shown, but this could be one to watch, running on the same engine that powered Rayman Legends. Ubisoft is also working with makers of the documentary Apocalypse: World War I, including some of the footage in the game. The game is out June 25, 2014.
Finally, Ubisoft president Yves Guillemot came on stage to announce Tom Clancy's Rainbow Six: Siege. This multiplayer game was still running in early alpha, though naturally it looked good enough to show at such a major event. Using a camera drone, they spied on an enemy team taking a hostage in a house in a Boston suburb. After the drone was spotted and destroyed, they began raiding the house from the roof. Breaching the house, the team secures the hostage and continues fighting the enemy team, shooting through walls of the house and trying to take cover when possible. The enemy retook the hostage, and the teams battled back-and-forth before it was only 1v1, with the last person trying to escape out a window. It looked pretty cool, though the team tactical conversation (that sounded like gamers, not in-game characters) was rather canned.
Though not much new stuff was announced beyond Rainbow Six: Siege, getting to see details of many highly-anticipated games like Far Cry 4 and Assassin's Creed: Unity was worth watching the event. Granted, many of these games cover similar territory, like playing with your friends, giant open worlds, and shooting. If you're not into those things or are feeling fatigued by them, you may want to look somewhere else. Still, a strong showing. These third-party conferences never have the bombast of the Big Three's announcements, but at least Ubisoft had more interesting stuff than EA.