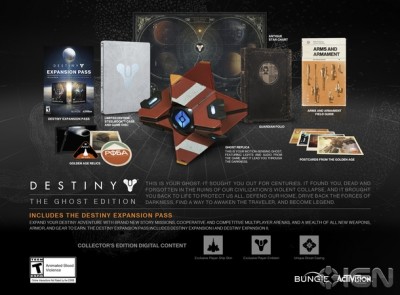 You can't have a new, big-budget IP without also offering a collector's edition for all those hardcore fans of a game they've never played! I kid, but as expected, Bungie's Destiny will have a collector's edition and a more expensive collector's edition, if paying $60 for the base game is too cheap for you. The Ghost Edition will run you $150 and includes the following: the game in a steelbook case, a field manual with "handwritten" notes, an "antique" star chart, a Guardian folio, four "Golden Age" postcards, the Destiny expansion pass (worth $35; gives you the first two expansions), some Collector's Edition skin DLC, and a life-size replica of the Ghost robot (including lights and voice clips by Peter Dinklage). This version will supposedly be very limited.
If that's too pricey for you, you can also buy a Limited Edition for $100 that includes all the stuff listed above except for the Ghost robot. For those of you running out of space due to all these elaborate collector's editions, this might be a more reasonable version. Or if you're going completely digital, there is a $90 Digital Guardian Edition. It has a download of the game, a reservation for two upcoming expansions, early access to Vanguard armory and player emblem preorder bonuses, and the Collectors' Edition skin DLC.
Meanwhile, if you want to try out Destiny before you spend money on expensive editions, the beta starts on July 17 on PS3 and PS4. (I wouldn't be surprised if this was the same content from the previous alpha on PS4.) The beta will go offline on July 21 for maintenance, then return on July 23 for PS3, PS4, Xbox 360, and Xbox One. The beta will end on July 27. If you want access, you'll need to get a beta invite code from preordering the game, though some will be given away if you know where to look.
Source: IGN