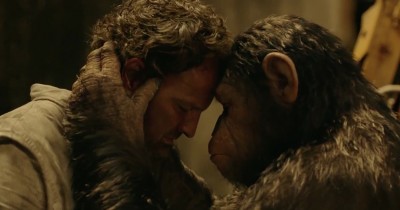 I thought the whole point of the latest reboot of the Planet of the Apes franchise was to show the entire rise of a planet ruled by apes. But all of the good stuff in Rise of the Planet of the Apes was right at the end (or in the credits!), and Dawn of the Planet of the Apes is skipping over a lot of the first movie's tumultuous aftermath. So I can understand the appeal of Fox and Vice releasing three prequels to Dawn, collectively titled Before the Dawn. The three short films depict the outbreak of Simian Flu one, five, and ten years after Rise. But why aren't any of these events being put into the film series? This is like talking up how good Halo's story is when all the plot and details are in books, not the games.
Spread of Simian Flu: Before the Dawn of the Apes (Year 1)
Directed by Isaiah Seret.
Amidst a widespread viral outbreak known as the 'Simian Flu', a mother is quarantined after testing positive for the virus, leaving her husband and daughter to fend for themselves.
Struggling to Survive: Before the Dawn of the Apes (Year 5)
Directed by Daniel Thron.
Five years after the Simian Flu all but wiped out humanity, an orphaned teenage girl survives by bartering things she has stolen from dead people's homes.
Story of the Gun: Before the Dawn of the Apes (Year 10)
Directed by "thirty-two."
Follow the journey of a shotgun through the hands of several ill-fated owners as the 'Simian Flu' ravages the world around them.
And if you're into monkeys and want to see some real ones, Vice is premiering a documentary today called Island of the Apes, about an island occupied by chimpanzees formerly used in lab tests.
Source: /Film