Posted by Bob Muir on Oct 28, 2014 in
Videogames
|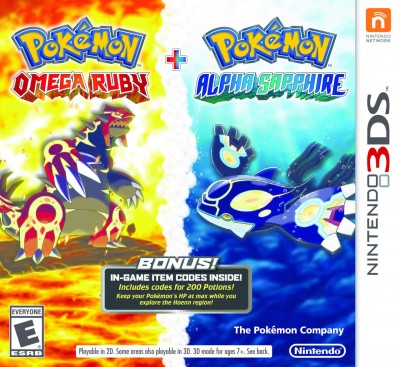 Nintendo doesn't expect everyone to buy both versions of a new Pokemon game. Other than minor plot differences and certain exclusive pokemon, they're basically the same game. Nintendo does this to encourage trading with other players. But some people buy both versions for various reasons: collecting, sharing the second game with a poor friend, a second save file, or maybe not having anyone else to play with. If you are thinking of getting both Pokemon Omega Ruby and Alpha Sapphire, Nintendo has a "deal" for you. For the exact same cost of buying the games separately, you can buy them together in a bundle. What's the incentive? Two download codes for 100 potions each, to help you start your game.
If you don't remember, a potion helps restore 20HP to a pokemon. As such, it's really only useful very early on, because super potions and hyper potions are much more effective at healing higher-level pokemon that have much more HP. In recent Pokemon games, I use a few potions during the game's first few hours, generally if I really screw up a battle. After that, they're basically useless, and you can't even sell them for much in-game money. It's such a lame bonus that it almost seems better not to offer it at all.
But if you're set on buying both versions (as I generally am), then you might as well get this bundle and save yourself a couple of minutes backtracking to heal at a pokemon center. You can get this bundle for $79.98 at Best Buy stores, or order online from Best Buy and Amazon. Maybe next time Nintendo tries this, they'll offer a better incentive for essentially paying twice for the same game.
Source: Gamespot