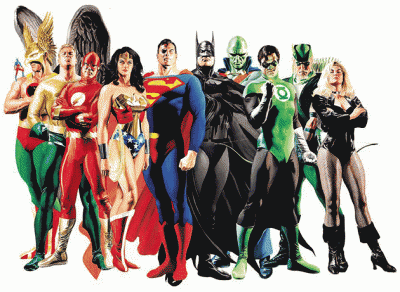 Well, at least WB and DC are getting serious about competing with Disney and Marvel. WB has confirmed all the upcoming pieces of their shared superhero universe that started with Man of Steel in 2013. 2016 will see two movies: the already-known Batman V. Superman: Dawn of Justice (directed by Zack Snyder), and then a Suicide Squad movie (directed by David Ayer) about a team of villains who do dangerous work for the government. Then, 2017 will see a stand-alone Wonder Woman movie (starring Gal Gadot, who will be introduced in BVS:DoJ) followed by the inevitable Justice League movie (which will see all the heroes team up). But the schedule doesn't stop there.
Come 2018, we'll get a Flash movie (with the recently-cast Ezra Miller, unrelated to the new TV series) and an Aquaman movie (starring Jason Momoa). 2019 will see Shazam (with Dwayne Johnson as villain Black Adam) and a sequel to Justice League (directed by Zack Snyder, as is the first JL movie). And beyond that in 2020, we'll see movies for Cyborg (likely starring Ray Fisher) and Green Lantern (which will hopefully do better than the last one).
I'll say this for WB: at least they've finally got a plan, and we know more about these plans than we do Marvel's slate beyond 2016. I'd be lying if the kid in me that grew up with DC animated series wasn't somewhat excited for all these movies. Of course, I still think it's a mistake to keep the franchise in the tone of Christopher Nolan's Dark Knight Trilogy, as well as a mistake giving so much creative control to Zack Snyder. And there's something to be said for Marvel merely claiming release dates instead of openly announcing what each movie will be, as it keeps up the mystery of what's coming next and allows them to shift their story plans as needed. But then again, Marvel is so big that it's possible to get audiences excited merely by its brand, so that works for them.
Hopefully DC isn't making too much of a mistake introducing all these characters like Aquaman, Flash, Green Lantern, and Shazam in the team-up movie before giving them their own movies.
Source: io9