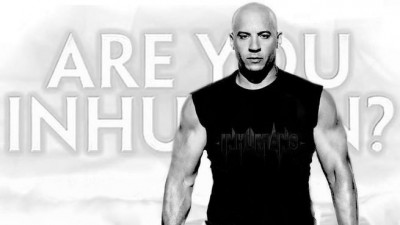 Vin Diesel's latest Facebook post has rumors surfacing that Diesel may be appearing in Marvel's fall 2018 movie Inhumans. See, Diesel posts these kinda strange self-affirmations, featuring himself, to his Facebook page. His new cover image shows him wearing a shirt with the comic book logo for Inhumans, with "Are You Inhuman?" behind him. (The phrase and font had previously been used in ads for "Inhumanity," a 2013 event.) "But wait!" you say, "Vin Diesel is already playing a part in Marvel movies! He voices Groot!" Yes, but he doesn't perform motion capture for Groot, and there's a perfect part set up for him in Inhumans.
Assuming the movie will be about the Inhuman Royal Family, he would be perfect for Black Bolt, the leader who stays silent all the time, lest his hypersonic voice destroy his surroundings. Since neither character would share a voice or a physical actor, there's no real overlap! Granted, this could also be a hint at another Inhuman character, possibly in a different movie or TV series. (Agents of S.H.I.E.L.D. has been slowly introducing Inhumans without giving their name yet, and it looks to be a major focus going into the spring half of season two.) But Black Bolt makes the most sense, and he already has a good working relationship with Marvel, so it's possible he will be the second exception to their current "one actor, one character" rule of casting. (Paul Bettany, the voice of Iron Man's AI J.A.R.V.I.S., is playing the Vision in Avengers: Age of Ultron, but the two roles are related in some way, so that makes sense.) Fans also seem to want him to play the silent leader.
Of course, this is all rumor for now. But back in August, when Guardians of the Galaxy was hot, Diesel posted this to his Facebook with an image of Groot: "Vin and Marvel… you all made it happen! I get the strange feeling that Marvel thinks I'm Inhuman… Haha." It could just be him having a laugh, or he could even be fishing for the part. But between these two posts, I think it's safe to say at least something is happening.