Posted by Bob Muir on Jan 15, 2015 in
Videogames
|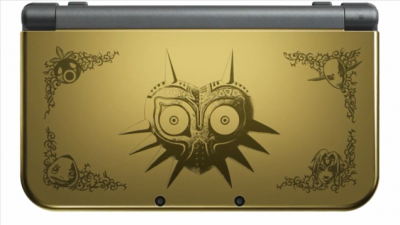 Nintendo held their first Nintendo Direct of the year, announcing their upcoming games for the first half of the year. Sadly, there wasn't much Wii U news, but that's because of the 3DS focus, since there is a new piece of hardware. After an annoyingly long wait and well past the holiday shopping season, Nintendo is finally bringing the New 3DS to America after Japan (and strangely Australia) got to enjoy it. The system has improved head-tracking 3D, more power under the hood, a faster OS, Amiibo/NFC support, two more shoulder buttons, and a c-stick (right stick) nub. (An Amiibo adapter is expected for older 3DS models.)
Only the New 3DS XL model will be offered in America, while both the regular and XL models will be sold in Europe (and elsewhere). The handheld is out on February 13, with limited edition Zelda: Majora's Mask and Monster Hunter models; though in true Nintendo fashion, fans and scalpers made the Zelda model sold out within 15 minutes. The Legend of Zelda: Majora's Mask 3D, Monster Hunter 4 Ultimate, and Ace Combat: Assault Horizon Legacy+ will both be out on February 13 as well. The New 3DS-exclusive Xenoblade Chronicles 3D, which uses the additional processing power, will be out in April.
There was other 3DS news too. A new Fire Emblem game was announced, though no date was given. The hugely popular game Puzzles & Dragons is coming to the 3DS in a double pack including both Puzzles & Dragons Z and Puzzles & Dragons: Super Mario Bros. Edition. Another puzzle game, Pokemon Shuffle, will be released free soon; it uses the annoying energy mechanic from free-to-play games, so now that Nintendo has unfortunately entered the microtransactions market, we can only hope they keep things more fun than annoying. A new indie game, IronFall: Invasion, will bring six-player third-person-shooting to the 3DS. And Code Name: S.T.E.A.M., which shares its developer with Fire Emblem, will feature support for any Fire Emblem Amiibo (Marth, Ike, Robin, and Lucina), adding them to your team. You may be wondering how you could use Marth when he's impossible to find. Nintendo says that due to Code Name: S.T.E.A.M., they will be making more Marth Amiibo available.
Speaking of Amiibo, Wave 3 is still on its way in February. Wave 4 (Robin, Lucina, Pac-Man Wario, Ness, and Charizard) has been announced for Spring 2015. Then, the first non-Super Smash Bros. Amiibo were revealed. This line is meant to work with Mario Party 10 and other Mario games. It includes Mario, Luigi, Peach, Yoshi, Bowser, and Toad. Only Toad is new, but the other characters feature different poses than their Super Smash Bros. Amiibo. You can use either version of a character for any game, which is good; but as a reminder, each Amiibo can only store the data for one game at a time — many games don't save data — so you may want a second anyway. Details were given for how certain Amiibo will work with specific games, but you can use this chart to find out what works with what.
Meanwhile, classic Wii games are coming to Wii U as digital downloads. The Wii U already plays any Wii disc game by booting into a virtual Wii interface, but this will allow you to buy digital versions and boot into them right from Wii U. In addition, games that support the classic controller can also be played with the Wii U GamePad. (Hey, how about extending that to all games played in Wii mode!) Super Mario Galaxy 2 is available now, with Punch-Out!! and Metroid Prime Trilogy coming out the next two weeks. The games cost $19.99, but those buying in the first week get them 50% cheaper at $9.99, a great deal I'd like to see become the norm.
Finally, the Wii U was covered a bit. The colorful Splatoon, a multiplayer squid-girl ink shooting game, is out in May 2015, sooner than I would have expected. Xenoblade Chronicles X is still in development, with a 2015 release date, which likely means a fall release. Mario Vs. Donkey Kong: Tipping Stars will be Nintendo's first cross-buy game (to use PlayStation's term) when it releases on March 5; though it won't be a true cross-buy system, buying one copy of the game will give you a download code for the other. (Saves between the two systems are likely non-compatible, but you can share levels between the two via Miiverse.) And Namco Bandai is working on a new Wii U game called Project Treasure for now.
The games themselves are looking good, but I'll admit to being annoyed at some of Nintendo's supply and marketing decisions as of late. The lack of supply combined with high demand for the Majora's Mask New 3DS XL meant it sold out immediately, similar to other recent limited edition products and some Amiibo, resulting in a product that was basically only offered to fans (and scalpers) who happened to be in the right place at the right time. It's also strange that only America is not getting the New 3DS; while the 3DS XL was much more popular than the original 3DS, many people still prefer a smaller system.
Release Dates:
Super Mario Galaxy 2 (Wii U eShop only) – Available Now
Citizens of Earth (Wii U/3DS eShop only) – January 20, 2015
Punch-Out!! (Wii U eShop only) – January 22, 2015
Metroid Prime Trilogy (Wii U eShop only) – January 29, 2015
Gunman Clive 2 (3DS eShop only) – January 2015
Moon Chronicles (3DS eShop only) – January 2015
IronFall: Invasion (3DS eShop only) – Soon (January 2015)
Sega 3D Classics (3DS eShop only) – January-March 2015
New 3DS XL – February 13, 2015
The Legend of Zelda: Majora's Mask 3D (3DS) – February 13, 2015
Monster Hunter 4 Ultimate (3DS) – February 13, 2015
Ace Combat: Assault Horizon Legacy+ (3DS) – February 13, 2015
Kirby and the Rainbow Curse (Wii U) – February 20, 2015
Wave Three Amiibo (King Dedede, Rosalina & Luma, Bowser, Sonic, Mega Man, Toon Link, Shiek, Ike, Shulk, Lucario, Meta Knight) – February 2015
Pokemon Shuffle (3DS eShop only) – February 2015
Elliot Quest (Wii U eShop only) – February 2015
Blek (Wii U eShop only) – February 2015
Mario Vs. Donkey Kong: Tipping Stars (Wii U/3DS eShop only) – March 5, 2015
Code Name: S.T.E.A.M. (3DS) – March 13, 2015
Mario Party 10 – March 20, 2015
Super Mario Amiibo (Mario, Luigi, Peach, Yoshi, Bowser, Toad) – March 20, 2015
Fossil Fighters Frontier (3DS) – March 20, 2015
Story of Seasons (3DS eShop only) – March 2015
Xenoblade Chronicles 3D (New 3DS only) – April 2015
Splatoon (Wii U) – May 2015
Puzzle & Dragons Z/Puzzle & Dragons: Super Mario Bros. Edition (3DS) – May 2015
Etrian Mystery Dungeon (3DS) – Spring 2015
Wave Four Amiibo (Robin, Lucina, Pac-Man, Wario, Ness, Charizard) – Spring 2015
Xenoblade Chronicles X (Wii U) – 2015
New Fire Emblem (3DS) – No Date
Project Treasure (Wii U) – No Date
Source: YouTube