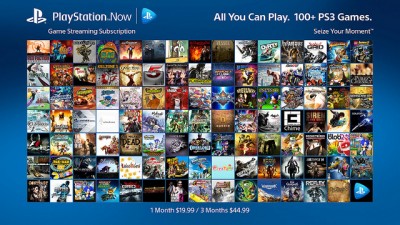 The technology behind PlayStation Now, Sony's streaming game service, is admittedly cool, provided your internet connection is up to snuff. But while streaming PS3 games (rendered on Sony's side) to PS4, PS3, Vita, and now TVs is cool, the prices were anything but. A 90-day rental could cost anywhere from $15-50 (often the cost of a full copy or higher), while even $4 for a mere four hours of gameplay seemed unfair, considering how long it takes to play many games. Prices have shifted, but users have begged for a subscription model, which has finally arrived. Starting on January 13 for PS4, you can subscribe for one month ($19.99) or three months ($44.99) at a time. In exchange, you'll get access to over 100 PS3 games.
That sounds a touch high in the age of freemium apps, but honestly, that's a very reasonable price. Granted, how many games you have time to play in a month will vary from person to person. But overall, this sounds like a strong launch, with more support promised in the future. Sony says they are adding more games over time, though I wouldn't be surprised to see some older games cycled in and out, similar to the free games offered via PlayStation Plus. PS1 and PS2 games are still nowhere to be seen, but Sony supposedly still wants to make them available in the future. Users on other systems will have to wait an undetermined amount of time, but the subscription plan will eventually come to non-PS4 platforms.
I can't say that I'll actually use PlayStation Now, since I still cling to physical media (and my PS3, for that matter). However, that's because all about building a game collection instead of selling back or trading away my games, while the ephemeral, transitory nature of game streaming is kind of antithetical to my style of playing. So though I'm not in the target demographic, I can still say that I'd be happy with the initial launch if I was. But if you're not convinced, there's a 7-day free trial, so you can make sure the games actually stream well on your PS4.
Source: PlayStation Now