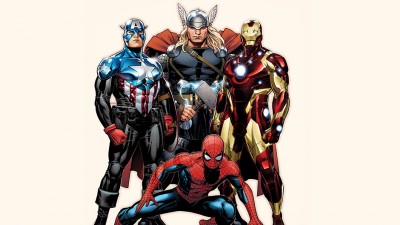 Quick recap: when the company was going through hard times, Marvel sold the film rights to its most popular characters, which meant when they started making movies, they needed to turn their B-list heroes into stars. They've reacquired some of those rights, but X-Men, Fantastic Four, and Spider-Man have remained in the hands of Fox and Sony. But since Sony's Spider-Man movies have been floundering — The Amazing Spider-Man 2 is just awful — they've been talking to Marvel to try and get things back on track. Thankfully, they finally have a deal, and it's great news for fans of the Marvel Cinematic Universe: Spider-Man's back. Or almost back.
Marvel and Sony have struck a deal that leases Sony's rights to Marvel for use in their movies. A newly rebooted version of Spider-Man will appear in an upcoming Marvel movie, which by process of elimination is likely to be Captain America: Civil War. Then, Spider-Man will appear in his own film on July 28, 2017, which will be produced by Sony's Amy Pascal and, most importantly, Marvel's Kevin Feige, architect of the MCU. Though Sony will continue to own, finance, distribute, and have final creative control over the movies, it's being billed as a joint production that will match the continuity of Marvel's own films. Furthermore, the two companies are exploring opportunities to incorporate Marvel characters into Sony's Spider-Man movies. Let's break this down.
Obviously, Disney/Marvel were unable to buy back the rights to the character and his supporting cast, but this is the next best thing. Notorious producer Avi Arad (see: Spider-Man 3 and The Amazing Spider-Man 2 for the best evidence of his handiwork) is merely an executive producer with no real creative input. Meanwhile, Marvel gets to incorporate Spider-Man into its Phase 3 movies (and beyond) and help make Spider-Man movies good again. (And we can all forget about those Amazing Spider-Man films.) It's a shame Andrew Garfield won't be returning, but it's likely best to make a clean break.
Most importantly, though, is that Marvel can now play with all those wonderful Spider-Man villains. While I'm not eager to see another film about the Green Goblin, Norman Osborne is a great heavy-hitter villain who does a lot of cool, non-Spider-related things in the comics. Or perhaps Vincent D'onofrio's Kingpin will crossover from Daredevil, seeing as he and Spider-Man have a lot of conflict.
Strangely, it seems that Sony's Spider-Man spin-offs (Sinister Six, Venom, and the female Spider-Man spin-off) are still in development, but have been delayed. If Sony was smart, they'd abandon some of those (since they won't be produced by Feige) and get Sinister Six director Drew Goddard onto the new Spider-Man reboot. Meanwhile, since that new Spider-Man date is the same day as Thor: Ragnarok, Marvel has reshuffled some dates. Thor: Ragnarok is scheduled for November 3, 2017, Black Panther is scheduled for July 6, 2018, Captain Marvel is scheduled for November 2, 2018, and Inhumans is scheduled for July 12, 2019. Since the dates for Avengers: Infinity War Part 1 and 2 haven't changed, this puts Black Panther after Infinity War Part 1 and Inhumans after Infinity War Part 2.
Some fans have been calling for this Spider-Man to either be Miles Morales, the Black-Latino Spider-Man from the Ultimate universe, or a black Peter Parker. While that would certainly be cool, it doesn't seem to be happening, as the press release specifically mentions Peter Parker. There's always the possibility that Peter will die at some point like in Ultimate Spider-Man and Miles will take over, but I can't see that happening after a minor appearance in Civil War and one movie. If Spider-Man is in Infinity War, he could die, but I feel like that's better handled in another film. And while Spider-Man as an overall franchise could surely use some shaking up, this specific version of Spider-Man would feel rather abrupt if killed too quickly. And while it's possible that Marvel could make Peter Parker black, I can safely bet there's no way they'd cast fan-favorite Donald Glover (31 years old) as a high school student when Sony supposedly thinks Garfield's age (31 years old) is too old.
Either way, it will be exciting to see what comes of this deal!