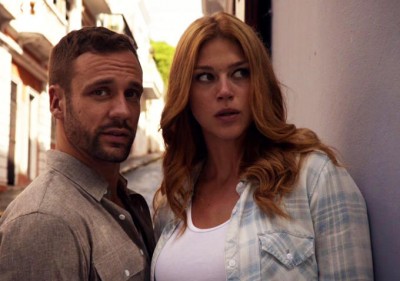 The Hollywood Reporter has revealed that the rumored Agents of S.H.I.E.L.D. spin-off is actually happening. While Marvel and ABC haven't said anything yet, their sources state that ex-couple Bobbi "Mockingbird" Morse (Adrianne Palicki) and Lance Hunter (Nick Blood) will leave S.H.I.E.L.D. to headline a new series. S.H.I.E.L.D. executive producer/writer Jeffrey Bell and co-executive producer/writer Paul Zbyszewski are also on board. The upcoming final episodes of S.H.I.E.L.D. will set up the series.
I'm of two minds about this. On one hand, I've been eating up everything Marvel puts out lately, so another Marvel TV series sounds good to me. On the other hand, this may mean that Marvel has two series about secret agencies (assuming Mockingbird and Hunter don't change careers) on ABC, which sounds it could help oversaturate the crowded comic book market. Maybe if their team, whatever form it takes, is basically S.W.O.R.D., the agency that defends Earth against alien threats, I could see it working, provided S.H.I.E.L.D. stops dealing with aliens as much. But seeing as one of S.H.I.E.L.D.'s main characters has alien ties, I'm not sure how much S.H.I.E.L.D. could avoid alien confrontations, like their encounter with a Kree.
I'm sure we'll have a better idea of where this spin-off is going by the end of S.H.I.E.L.D.'s second season, which thanks to recent plot developments already has a good pretense for some team members to split off. I just wonder if it might not be better for them to stay on the show where we know they work.
Source: The Hollywood Reporter